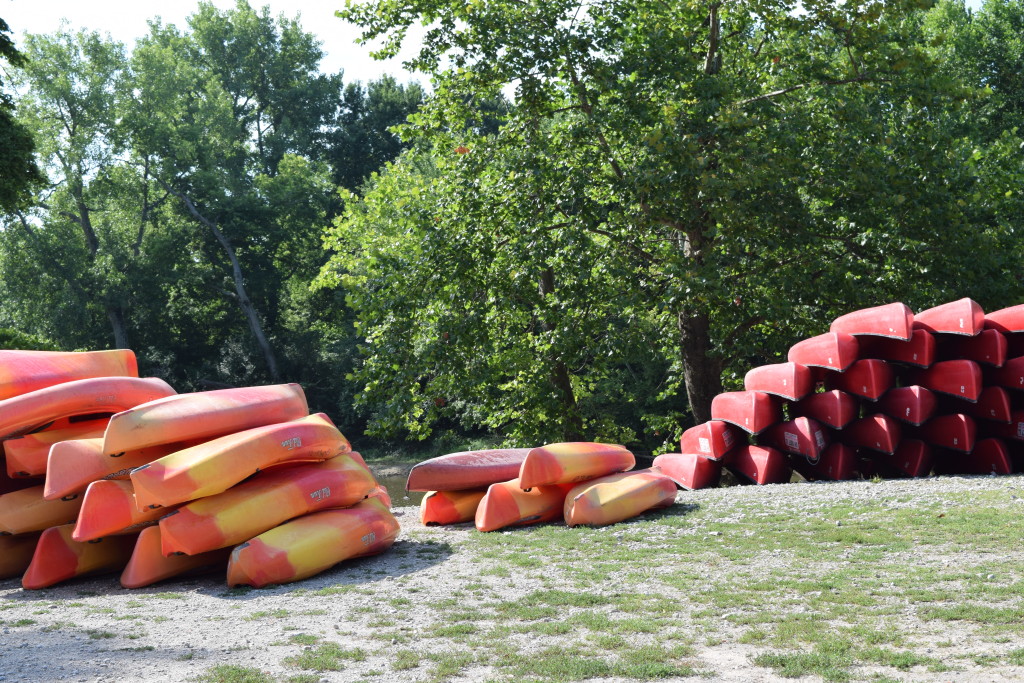 I love getting a kayak out on the waterways of Ohio, and Grove City delivers a beautiful section of the Big Darby Creek State and National Scenic River. The Big Darby Creek is one of the most pristine rivers in the nation because of the endangered mussels found in the depths of the riverbed. It's a gift to live nearby this national treasure and be able to adventure in it.
I recently learned about Trapper John's Canoe Livery, located outside Grove City on London-Groveport Rd. Once I discovered a location where I could float down the Big Darby, I had to go out and get on the water. Trapper John's is straightforward to find, and all I had to do was put the coordinates into my GPS, and I made it there without a hitch. The parking area is a gravel lot right in front of the store where you purchase your kayak or canoe adventure.
THINGS TO KNOW BEFORE YOU GET OUT ON THE BIG DARBY
Purchasing the Trip:
Upon arrival, I headed into the store, where I realized there was a procedure for purchasing a trip. You don't just stroll off the road to be let loose on the Big Darby; however, the check-in process was quick and informative. Why the procedure and rules? These small details ensure that the marvelous Big Darby River stays cleaner and participants remain safe.
The first thing you need to know is that you will need a valid ID. Trapper John's uses this as a deposit; you will get it back once you return from your trip. Second, you will fill out a liability form. Third, you receive an overview of the rules of the Trapper.
These are:
NO ALCOHOL.
All renters must have a valid ID and will be required to leave it as a deposit.
NO PETS.
No one under the age of 6 years is allowed.
Must be 18 or have a parent's signature on a release form.

Must provide a valid phone number for phone verification.

No heavy coolers.
Small individual lunchbox-style coolers with a few cold drinks and snacks.
We cannot recommend picnicking on the river banks, which is not our property.

We do have a picnic area free for use.

Glass containers and styrofoam coolers are prohibited.
No Tubes.
No speakers.
Everyone is off the river by 6:00 pm.
Fourth, pay for your trip.
Once I got all the legalities out of the way, I was off to get my kayak and life vest.
KAYAKING ON THE BIG DARBY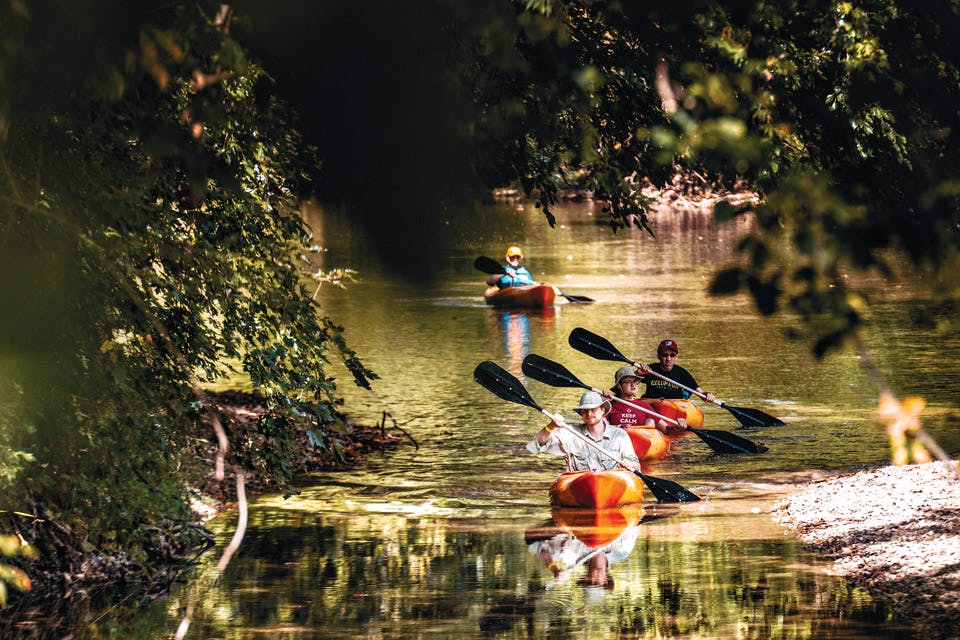 I was full of anticipation as I jumped down the store's steps to head over to the shack where I was to get my life jacket and kayak. The knowledgeable staff had me fitted with the needed gear, and I was headed over to the safety board in minutes. At the safety board, I was instructed on maneuvering the kayak around some debris in the river and where to get out of the Big Darby to be transported back to Trapper John's. I listened carefully because I did not want to float by the exit landing and miss my ride!
After listening to the safety talk, the staffer walked me down to the launch area and helped me get situated in the kayak. As the kayak slid into the river, I was thrilled! There is something to be said about the feeling of your kayak leaving the land and hitting the water. The firmness of the earth underneath you changes to the gentle softness of water flowing beneath your kayak.
Kayak Trip on Big Darby Creek
Leaving Trapper John's behind and starting down the Big Darby is breathtaking. The deep green f the foliage along the river banks is absolutely stunning. Plunging my paddle deeper into the water, I propelled forward along the water trail.
The river is home to many of Ohio's diverse animals. As I floated along, I was on the lookout for some of those skittish furry friends. At one spot, I was able to admire a doe with her fawn grazing along the banks, and I lifted my paddle out of the water to quietly float by so I could take in the magnificence of the deer. However, they did not find me to be someone they wanted watching them for long; they quickly flicked up their white tails and sprang off into the forest. Continuing down the river, I was privileged to see a Great Blue Heron and a baby Northern Water Snake!
Nature has my heart, and I do my best to clean up trash when I am out on any kind of hike or water adventure. Much to my surprise, I was thrilled about how little waste I found on this section of the Big Darby Creek! For me, there is a deep satisfaction in leaving the green space cleaner than how I found it.
Getting Off the Big Darby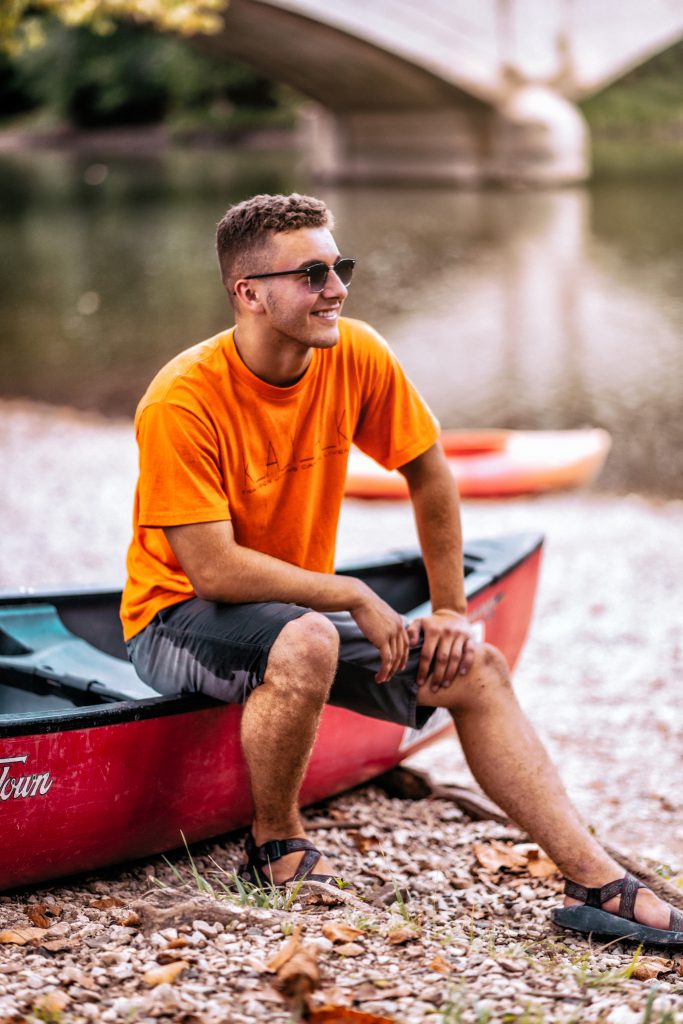 All good adventures eventually have to come to an end, and my time out with Trapper John's was almost over. I could see the exit landing ahead on my right, and I dug my paddle in, and my kayak glided over to where I could get off the river. The staff was immediately at the tip of my kayak and pulled me up onto the shore; talk about service! They take care of everything once you are off the water. You don't have to do much except get onto the bus to be taken back to Trapper John's.
What a perfect location and wonderful time out kayaking on the Big Darby; I can't wait to get back out with the family sometime soon. If you've never been out on this national treasure, make time to do it. This location is worth the trip, with so much to offer in beauty and diversity. Big Darby Creek and Trapper John's is a top-notch combo that can't be beaten, and it's located right in the heart of Ohio!
A few more helpful hints suggested by Trapper John:
Leave valuables at home
Use straps on glasses (available at the canoe livery)
Must wear shoes; strap-on sandals are recommended
No bare feet
Carry a change of clothes, especially in cool weather
Bring insect repellent and/or sunscreen (available at the canoe livery)
Take water
Wear your life jackets; they cannot help you if they are not on you
Most frequently lost items on Darby Creek
Be advised! Weight limit on a kayak is 265lbs. The combined weight limit in a canoe is 500lbs
For more information and up-to-date pricing, check out Trapper John's Website
or they can be reached by phone.
(614) 877-4321
7141 London-Groveport Rd.
Grove City, OH 43123