Since entering the world of Group Tours I have heard repeatedly that ABA Marketplace is the one trade show you absolutely cannot miss.  I've heard about the networking opportunities and the sheer number of tour operators in one place.  I was told it would be overwhelming the first time and that it would take time and patience to establish relationships.  So it was that some measure of nervousness that we attended our very first ABA Marketplace in Nashville.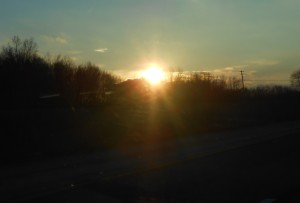 The nerves did not hinder us for long.
People in Nashville could not have been kinder.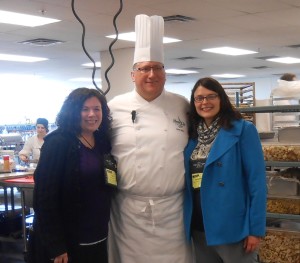 From Trader Joe's to Macy's (yes, you heard me right) to the hotel and Music City Center Staff (like Chef Max, pictured above), Nashvillites were kind and helpful.  Surely this could not extend to the actual tradeshow could it?  But of course it did!  We were quite fortunate to meet some of the most amazing people from all across the United States.  And they were excited about Grove City and what we had to say.  Amanda and I were met with warm welcomes, eager questions, and in some cases, instant friendships!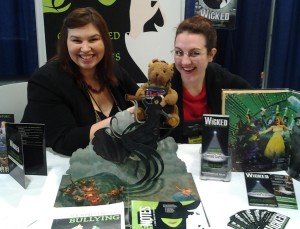 Of course, it may have helped that we had an icebreaker.  Pearl the Squirrel, our adorable mascot, became quite the sensation and functioned as a phenomenal conversation starter.  And we took pictures, lots of pictures (many are already on Instagram and Facebook but we will be adding over the next several weeks).   Be sure to follow Pearl's antics as there may be a little giveaway involved!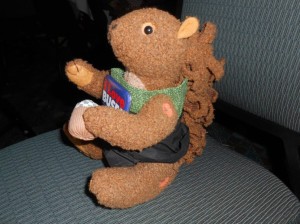 Pearl rarely left my side through the entire event and that included phenomenal educational sessions that I attended on relevant industry topics.  The speakers were informative, knowledgeable, and dynamic.  My two favorite sessions were with Heather Lutze and Jones Loflin.  I wish I'd been able to attend more educational sessions but it seemed that time grew wings while we were in Nashville – it seemed to disappear altogether on occasion.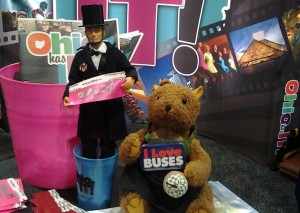 We spent time in the Experience Columbus and Ohio Has It booths, doing our part to spread the message about Ohio and what we have to offer visitors.   It was a huge turn-out for Ohio with several representatives from other Visitors Bureaus, attractions and even a few hotels.  There was steady traffic to the booths and no shortage of good conversation.
The days were long but productive and while we returned to Ohio with unpleasant head colds/flu bugs, the ABA Marketplace was definitely worthwhile and we have discussed our excitement for next year.  There is a lot to accomplish between now and then, a lot of contacts to follow up with, pictures to post and people to tag.  We are definitely up to the challenge!