Sometimes circumstances push us inside, and Grove City indeed has some stellar things to do indoors; I, for one, enjoy all the fantastic things you can find here. Whether it is shopping at your favorite locally-owned stores, sipping your way through the DORA, or heading indoors for some entertainment, they have you covered. Gather up your favorite people or take a solo trip to one of central Ohio's up-and-coming historic downtown destinations.
Transcend Coffee + Roastery
….
Start your visit off as I did with a freshly brewed cup of coffee at Transcend Coffee and Roastery. When you open the door to this coffee shop, you are hit with all the fantastic coffee smells. What makes these coffee scents so poignant? Well, you'll notice the coffee roaster to the right that has been part of the process of making the delicious smells come to life. They roast coffee on a consistent basis, and if you go while they are roasting, you might never want to leave.
Transcend Coffee has a #secretmenu that is not listed online and changes from time to time. Of course, I ordered off of the secret menu because who wouldn't want to try the secret flavors. I ordered the Trescened Surprise, which was a hot drink filled with the flavors of hazelnut, chocolate, and coffee; it was a perfect choice for a cold winter day. If you're feeling like a bite or a snack, they have you covered, and I chose the Blueberry Coffee Cake muffin, which was moist and full of plump juicy blueberries. All the baked goods in the case on the counter are curated and made by Country Cakes and Bakes.
Parking here is easy, and there is a large lot behind the coffee shop where you can park then walk the shops in historic downtown. Everything from this parking lot is easily walkable.
Little Theater Off-Broadway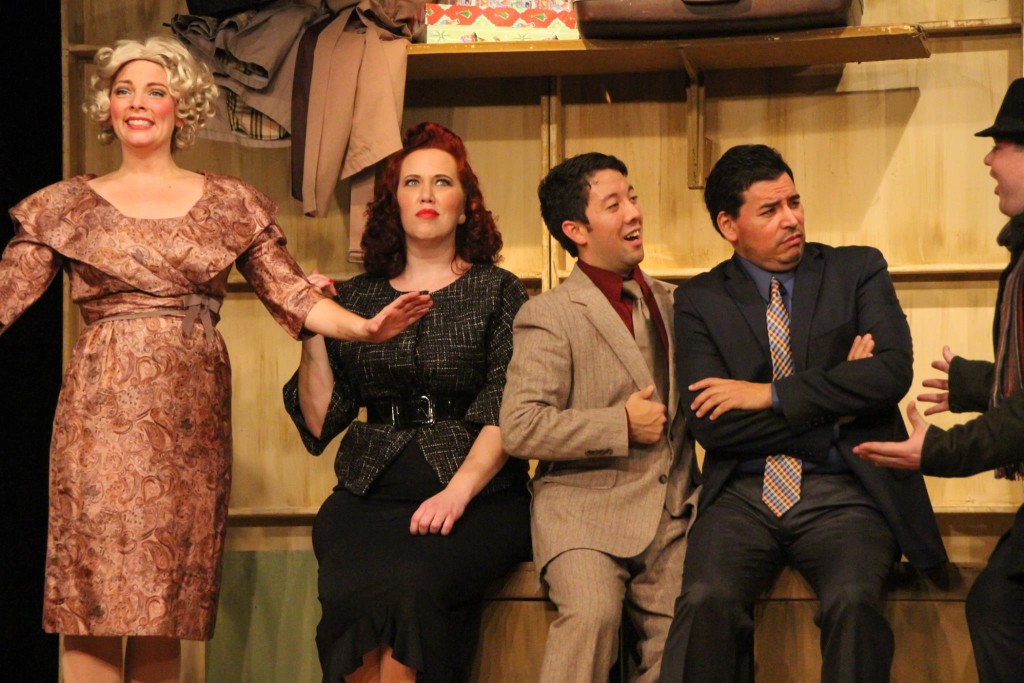 …
It's no surprise that everyone loves a night out at the Little Theater Off-Broadway. Theatergoers can buy tickets during the season, which offers two comedies, two musicals, and two dramas per year. This locally loved theater is packed with talent, and the shows fill with an audience that thespians gush about. Your visit to the LTOFB is small but big on talent; it is a venue where the actors get to know their guests. Book your tickets in advance because they sell out quickly.
Covid Protocols:
Face masks that cover the nose and mouth are required to be worn at all times by guests (including children two years old and older), staff, and volunteers, regardless of vaccination status, in all public areas of our theatre during a performance. At this time, food and beverages are not allowed in the performance space.
Masks are required to be kept on during performances.
Bring your own mask and wear it as you enter the building. Single-use masks will be available at our theatre if needed.
By wearing your mask, you are helping those around you stay safe, and you are supporting our efforts to RETURN TO LIVE PERFORMANCE
Country Hearth Primitives
…
…
If you love antiques, then you have found a treasure in the heart of the historic Town Center. This kitschy stop is packed with booths filled with all the things shoppers are looking for. Each booth is curated by various vendors, which means every turn offers something new. Spaces reflect their buyer, and that means there is something for everyone. I took my time walking through all the booths and found some unique jewelry pieces and locally made flannel shirts that were super soft!
Plan for at least thirty minutes to an hour because as you wander through all three floors, you will want to be able to explore every nook and cranny.
Pro-Tip: Housed in what was once the Grove City Farmer's Exchange makes the ambiance of this shopping experience even better.
Coffee Break Pottery
…
…
This Grove City "hidden gem" is filled with ceramics that you can paint and have kiln fired on site. Owner Mary has been creating beautiful pottery and ceramics for over 24 years, and when I stepped into the store, I was ready to get DIY creative. If you are coming to create, I recommend that you make a reservation so that they can have everything you need ready for you. Once you arrive, you will pick out your favorite ceramic design, and then you get to do the fun part, paint!. After you have your creation "just right," you leave your item behind where Mary "makes the magic happen" in her kilns. To get your ceramic piece back is a two-week curing process, so you will want to plan accordingly.
There are plenty of ways to enjoy Coffee Break Pottery; you can host a birthday party for your favorite someone or take one of the classes offered, ranging from simple to technical.
Pro-Tip: They cast their own molds here, so if they don't have something available, you can request it, and they will get it molded for you.
The Chandler
…
Have you ever poured your own candle? I had never done anything like this, and so when I stepped in The Chandler, I was in for a treat. This is a candle experience that is made with you in mind. Here's how it works, you can book a time to come in, or you can do a walk-in. However, I recommend that you make an appointment to enjoy the whole experience without interruption. When you get there, grab a clipboard and a pen. You will use this to help pick from the 120 scents they have available. Can't choose just one, that's ok, they can help you pick up to three different scents. You are your own expert fragrance tester, and to help with that, they provide fragrance strips to test the notes of each smell. You'll know what your candle will smell like before you even pour it.
Now the fun part, picking out your vessel. You can choose from a small candle all the way up to a large three-wick. One thing I love about pouring my own candle here is that it truly is a plan your own adventure, and you end up with something that is personalized to you.
I think this last part has to be my favorite step. Using up-cycled bourbon and wine bottles you add your scents in, you feel like a real mixologist as you pour the scents into your wax.
Depending on the time of day you come to the Chandler will determine if you can take your candle home with you. In a rush? For a small fee, they have a curing process that takes a mere fifteen minutes.
Pro-tip: You can host a party or an event here if you want, and if you are making a candle while the DORA is open, you can bring your drink along with you.
Grove City is bursting with surprise finds, and you will want to come again to explore their many indoor experiences. You won't have time to visit them all in just one visit.
Written By: Brandy Gleason with Gleason Family Adventures