We recently received CityScene's July 2014 issue, which featured the annual reader poll, "Best of the 'Bus." Spanning 70 categories, the article lists Central Ohio fan favorites of categories such as "Best Local Band," Best Classic Cocktails," and "Best Food Truck." We were overjoyed to find that Grove City had winners in SEVEN categories! Congratulations to the winners and a huge thanks to all those who voted!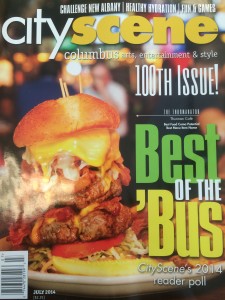 1. Best Wine Event – Grove City Wine and Arts Festival
2. Best Local Wine – Plum Run Winery
3. Best Barbeque – City Barbeque
4. Best Pizza – Tammy's Pizza
5. Best Cupcakes – Capital City Cakes
6. Best Suburban Fireworks – Grove City's Blast at Beulah
7. Best Charity – Mid-Ohio Foodbank
In addition to these seven wins, Grove City's Wine and Arts Festival and Arts in the Alley took second and third, respectively, for the "Best Suburban Arts Festival." Grove City also came in second for "Best Suburban Public Art Program."
We might be a little biased, but we think our city is pretty great. Come see what you're missing in Grove City!
– Sarah