Originally established to celebrate the birth of President George Washington, President's Day has come to mean much more in an attempt to honor all United States Presidents.  Despite the fantastic "President's Day Sales" at various retail shops, the holiday also means a day of school and work for many Americans.
Why not take this opportunity to remember some of the Presidents with ties to Ohio?  Eight of our former Presidents were born here in Ohio: William Henry Harrison, Ulysses S. Grant, Rutherford B. Hayes, James A. Garfield, Benjamin Harrison, William McKinley, William Howard Taft, and Warren G. Harding.  There is even a suggested itinerary that allows you to see all of the landmarks Ohio has established to commemorate these eight men – One State, Eight Presidents trip idea.
Central Ohio's contributions include a statues and the birthplace of Rutherford B. Hayes.   The Ohio Statehouse is a must see for Presidential History buffs with several statues and memorials on the grounds as well as a plethora of information inside.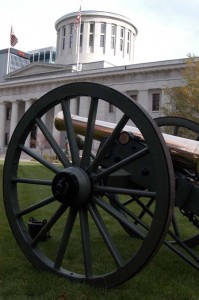 Whatever you decide to do, whatever political party you identify with, take a moment to pause and appreciate the former Presidents on this President's Day because they all did their parts to serve our country.