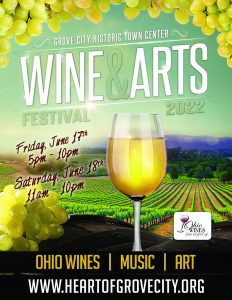 THIS IS A CASH-ONLY EVENT!
Enjoy the ease of summer with friends and family at the Grove City Wine & Arts Festival. This popular outdoor event features only Ohio-crafted wines, visual arts, delicious food, local vendors, and live entertainment. It is a must for wine connoisseurs and art appreciators alike. A shuttle is available from the Broadway Shopping center to the event.
The event takes place this year June 17th from 5pm-10pm and June 18th from 11am-10pm in the historic Heart of Grove City.