Join us on Saturday, July 23, 2022 from 10am-Noon as we highlight Author, James F. Hale and celebrate his historical knowledge of Grove City, Ohio.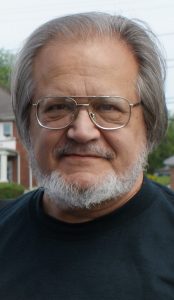 Jim, a southwest Virginia native, moved to Grove City in 1968.  A veteran of the U.S. Air Force, he served as an editor of a Tactical Air Command newspaper and performed duties as a military historian and magazine editor.  He served as a non-commissioned officer in charge of releasing news stories and photographs from 7th Air Force in South Vietnam to Ohio newspapers and wire service news outlets.  After the military, he was editor of both the Grove City Record and the Pike County News-Watchman in Waverly, Ohio.  He was general manager for the Messenger Newspapers and Web-n-Type Printing Company in Columbus.  He has worked as a public relations representative, news writer, and photographer for Columbia Gas of Ohio and was Business Operations Manager for Greenlawn Companies, a manufactured housing company.  He retired after seven years as executive director of the Grove City Area Visitors and Convention Bureau.
Jim will be highlighting his many historical stories of William Foster Breck, Grove City's Founding Father, and Greyhound Racing in Grove City, Ohio.