Visit Grove City Book Fair Day 2
Visit Grove City Book Fair Day 2 continues on Saturday, November 5 from 9am-1pm. It is National Bison Day! What better way to celebrate than with a book about bison? In addition to the amazing authors in attendance on Friday night, we will be adding Juliet Mullett, Michelle Mays, & Michelle Moone.
+ Juliet Mullett will be in the Visitors Center with a presentation about her book, Born on the Prairie. Juliet is the author and illustrator about the first bison born at Battelle Darby Metro Park. Juliet Mullett is a lifelong Ohioan who lives in Columbus, Ohio. She was born in Cuyahoga Falls and has lived in many partsof the state. After a career of teaching secondary English, art, and ESL, Juliet is now retired and focusing on illustrating Ohio's wildlife and farm animals. Her two children's books- Born on the Prairie and Day of the Dobsonfly- are about events in the Columbus area metro parks. She exhibits her work in galleries around Columbus. Her passion is teaching Ohio residents to appreciate and preserve their wildlife.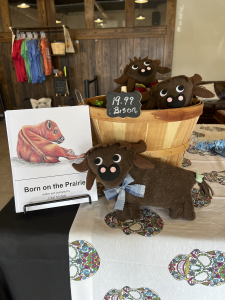 + Michelle Mays and Michelle Moone came together to create The Dumpster Doll Series.
Michelle Moone was born and raised in Columbus, Ohio, holds a BA in psychology from Ohio State University and a Master's degree from Ashford University. Currently seated as Administrative Coordinator at McGraw Hill, Michelle is recognized on the national recommended reading list for Court Appointed Special Advocates (CASA). Championing children in both the adoption and foster care systems, she is the COO of the 501(c)3 charity, FosterHub. Working alongside Michelle Mays, putting her passion on paper, Michelle is co-author of "Dumpster Doll: The Early Years" and "Dumpster Doll: Adolescence" as part of the three-part book series.
Michelle Mays is not just a story teller, she has a story to tell. Amidst horrifying living situations, unthinkable abuse, challenging life hurdles and consequences, Michelle is a survivor who fought her way through a darkness unimaginable.
The Dumpster Doll book series is a real-life account of the experiences that led her to become a child of the foster care system—what transpired before, during and after—the good, the bad and the uglier.  With a courageous vulnerability unlike any other, Michelle opens her heart to share recollections of her  most personal and dire circumstances.
Overcoming what most could not brave, Michelle has become a successful data analyst and book author; she's shared a fulfilled relationship with her loving husband of 20 years and is the mother of three accomplished sons.
As the founder and CEO of the FosterHub non-profit, and a motivational speaker with the goal to bring awareness to a taboo topic, an often overlooked demographic and system default, Michelle's plight is to ensure that each and every foster child may seek and obtain the support they need to assure no one suffers through the tragic life events that she endured.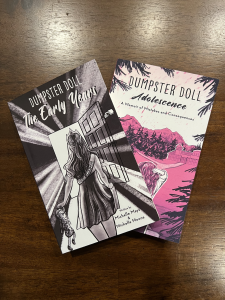 Event Details
Date:

November 5, 2022

Time:

9:00 am - 1:00 pm

Location:
Event Website:
Categories:
Event Tags:
Organizer:

Phone:

(614) 539-8747

Email:

welcome@visitgrovecity.com

Website:
Related Events
September 23 @ 8:00 am

-

12:00 pm

|

Recurring Event

(See all)

One event on September 30, 2023 at 8:00 am

One event on October 7, 2023 at 8:00 am

September 23 @ 2:00 pm

-

4:00 pm

|

Recurring Event

(See all)

One event on September 23, 2023 at 2:00 pm

September 29 @ 4:00 pm

-

9:00 pm

|

Recurring Event

(See all)

One event on May 26, 2023 at 4:00 pm

One event on June 9, 2023 at 4:00 pm

One event on June 23, 2023 at 4:00 pm

One event on July 7, 2023 at 4:00 pm

One event on July 21, 2023 at 4:00 pm

One event on July 28, 2023 at 4:00 pm

One event on August 4, 2023 at 4:00 pm

One event on August 18, 2023 at 4:00 pm

One event on September 1, 2023 at 4:00 pm

One event on September 15, 2023 at 4:00 pm

One event on September 29, 2023 at 4:00 pm

One event on October 13, 2023 at 4:00 pm

One event on October 27, 2023 at 4:00 pm