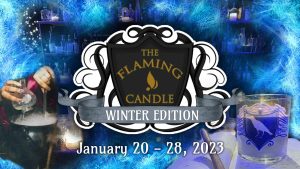 The Flaming Candle, Winter Edition is here! Something mystical and magical is in the air. Join the fun as The Chandler transforms into The Flaming Candle, an enchanting wizard world of floating candles, dusty cob webs, and scentsationaly magical potions. Mix your candle in a cauldron with your very own wand. A theatrical themed event.
Multiple Show Dates:
FRI, Jan. 20 – 6p, 8p
SAT, Jan. 21 – 3p, 5:30p, 8p
SUN, Jan. 22 – 4p
TUE, Jan. 24 – 6:30p
WED, Jan. 25 – 6:30p
THU, Jan. 26 – 6:30p
FRI, Jan. 27 – 6p, 8p
SAT, Jan. 28 – 3p, 5:30p, 8p
Please note, this event uses artificial fog, special effect lighting, low lighting, and hot wax.
The Chandler offers the BEST candle making experience in Central Ohio! Come into the shop and smell over 80 unique scents and combine them together to make your own! Welcome to The Chandler, we simply make scents.