Come see us in person at Visit Grove City, 3995 Broadway, for your secret message to discounted tickets!
Adult – $60 or $55 with Visit Grove City Discount        Children – $35 or $32 with Visit Grove City Discount
The Flaming Candle at The Chandler returns October 7th – 15th.   This is a Wizard World Themed Theatrical Candle Making Workshop.
Something mystical and magical is in the air. Join us as The Chandler transforms into The Flaming Candle, an enchanting wizard world of floating candles, dusty cob webs, and sensationally magical potions.
As far back as 1860, Phineas Flame has been operating The Flaming Candle, a place to tutor local witches and wizards in potion craft, under the guise of some muggle establishment or another in what would become Grove City's historic district. One decade it was a restaurant, another a photography studio, a record studio, even a baby boutique. Then one July night, some Ne'er-do-wells disenchanted Phineas's illusion and exposed him to the Muggle World. Not about to pack up shop, the clever professor began offering candle-making lessons to the public.
Now the battle is on to combat an unknown enemy, will YOU help Professor Phineas Flame uncover the mystery behind this disenchantment?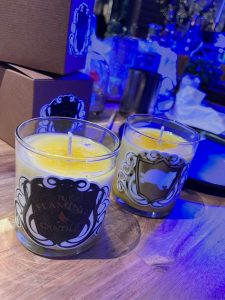 This event is Family-Friendly and includes:  Special Effects, A Secret Entrance, Shop Transformation, and More!
Tickets are digital and will be sent to your email.  For Questions concerning your order, please contact The Chandler at hello@wwickco.com