Visit Grove City has had some big changes recently. Our Group Tour and Marketing Manager, Ron Bower, has left the building. He remains in the Tourism industry and may cross paths with us at Trade shows and other events, but will unfortunately no longer be a fixture in Grove City, Ohio. While saddened to see him go, we wish him the very best in all his new job and new life are sure to bring. He's brought invaluable knowledge and experience here (Ron helped Visit Grove City win 2 Ruby Awards; Best Blog Series for "What The Grove?!" and Best Social Media Campaign "#SeeTheGrove") and has helped Grove City grow tremendously as a destination because of his work. Thanks Ron, for leading the path.
With the departure of Ron we at Visit Grove City had a big spot to fill. We'd like to take this time to officially introduce Sarah Lilly as the new Group Tour and Marketing Manager! If Sarah seems familiar you're not experience déjà vu, she's worked for the bureau on 4 separate occasions as our very industrious intern. Her hard work has paid off and we are delighted to welcome her (back) onto the team!
Due to recent staffing changes we'd like to take this time to formally reintroduce the team.
Amanda Davis, CTA, CMP – Executive Director – The Executive Director for Visit Grove City since January 2013, Amanda previously worked at the Blue Moon Event Center for 8 years and helped develop it from the ground up.
Sarah Lilly, CTA – Group Tour and Marketing Manager – Sarah has interned for the bureau on multiple occasions throughout the years. She has previously worked at the Oxford Visitors Bureau while attending Miami University. She received her Bachelor of Arts from Miami University in 2015.
Denise Corkwell, CTA – Office Manager – Prior to working at Visit Grove City, Denise worked at the Grove City Record for over 40 years.
Dany Adams, CTA, Marketing Assistant – Dany worked as the bureau's go-to freelance graphic designer for 3 years before being offered a position in May 2015. She received her Bachelor of Fine Arts from the Columbus College of Art and Design in 2011.
Pearl the Squirrel, Resident Mascot – Pearl's a squirrel. She doesn't do much. She's awfully cute though.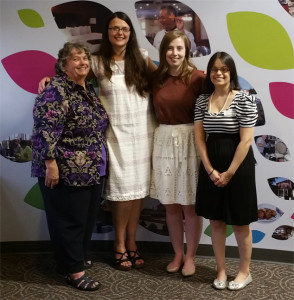 From left to right: Denise Corkwell, Amanda Davis, Sarah Lilly, and Dany Adams
Photo from Images of Modern America: Grove City book launch party on 8/28/2015
---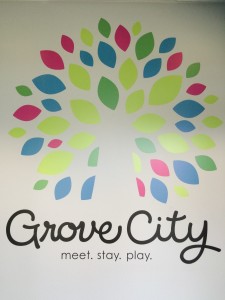 Our Visitor's Center located at 1600 Gateway Circle has undergone changes as well. Stop by our office to see our 2 new vinyl decals. The decals are located on our front door and the foyer (location of 24-hour access to Grove City area literature).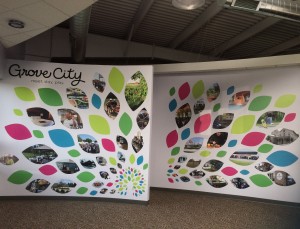 Our large mural featuring approximately 50 photos of Grove City area attractions, is now completed as well. This mural was unveiled live via Periscope at Book Launch party for Images of Modern America: Grove City by Laura Lanese, Janet Shailer, and Kelli Milligan Stammen; on 8/28/2015.
A big thanks to Cliff of CB Signs for doing a wonderful job.
---
Our long awaited Summer 2015 Visitor's Guide are officially in circulation! Contact us for your copy. Copies were available at The Ohio State Fair at the Ohio Travel Pavilion booth earlier this year and can now be found at each of our locations (Visitors Center – 1600 Gateway Circle, and Welcome Center and Museum – 3378 Park Street) and at any of the 14 Grove City lodging facilities. 
For those who don't know The 2015 Visitor's Guide was a huge project spanning over a year in development where we started completely from scratch. Many thanks to Chris Wright and his staff at Wright Graphic Design for their services in designing the map and printing the guide.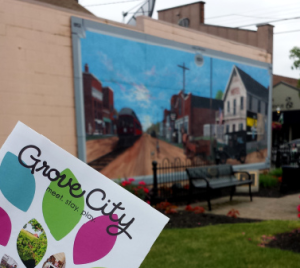 Photo from Heather/Ohio Girl Travels Grove City Fam Tour Blog Post
#FarewellRon #WelcomeSarah #SeeTheGrove