(SANDUSKY, Ohio) – Amanda Davis, Executive Director of Visit Grove City, received statewide recognition as a travel leader at the Ohio Travel Association's Emerging Leader Awards presentation, held Sept. 27 in Sandusky, Ohio. She accepted the award at the annual Ohio Conference on Travel held at Cedar Point. The Ohio Travel Industry Emerging Leader Award honors professionals in the travel industry who display commitment and passion for the industry, seek further education, and reach beyond the scope of their jobs to further develop tourism. Candidates are chosen based upon the individual's innovative approach to advancing the Ohio travel industry as well as accomplishments and goals.
"The leadership award to Ms. Davis is well-deserved recognition. Her enthusiasm and passion as ambassador for Grove City is just one more reason why Grove City is the Best Hometown," said Grove City Mayor Richard L. "Ike" Stage. "A heartfelt congratulations from the entire community." Visit Grove City's Board President, Beverly Babbert said, "On behalf of the Board of Trustees I'd like to extend a warm welcome to all Grove City area visitors, and invite them to our Visitor's Center at 3995 Broadway, Suite 100 in Grove City, OH. There you can see and experience the "Altogether Adventure" Ms. Davis spearheaded, that I am honored to have been a part of. I was so incredibly proud to be present when Ms. Davis received her award. Her acceptance speech showcased the importance of the Travel Community and discussed how travel impacts lives, and can be viewed online. Video footage of her finalist submission – showcasing a teaser of the Visitors Center is also available. Follow @visitgrovecity on social media channels to get the latest information about Grove City."  
For six years, Davis has been executive director of Visit Grove City. She began working in the travel economy as convention services manager for Blue Moon Event Center in 2004. She recently created a Grove City area scholarship for Ohio Tourism Leadership Academy, to encourage other Grove City area residents and employees to participate in the program. To date, this has enabled five graduates to complete the training program. Davis is a Certified Tourism Ambassador (CTA), CTA Facilitator, Certified Meeting Professional and is a graduate of the Experience Lab. Most recently, Ms. Davis was recognized as the Greater Columbus Certified Tourism Ambassador of the Year for 2018.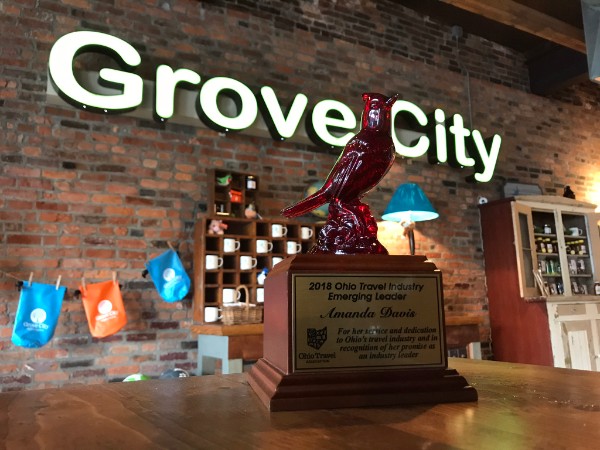 ###
About Ohio Travel Association The Ohio Travel Association is the non-profit association representing attractions, destination marketing organizations, hotels, museums, suppliers, restaurants, campgrounds and other businesses who make up Ohio's $44 billion travel industry. For more information about the Ohio Travel Association, visit http://ohiotravel.org.
About Visit Grove City Visit Grove City, the official destination marketing organization for the City of Grove City, is charged with marketing Grove City as a premier business and leisure destination, thus enriching our community's overall quality of life.  For more information, please visit https://visitgrovecityoh.com.   Originally published Oct 3, 2018