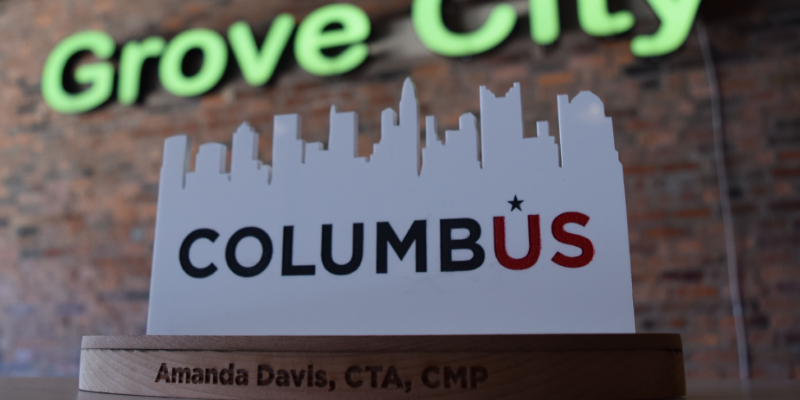 (Grove City, OH) –  Visit Grove City's Executive Director, Amanda Davis, CMP, CTA, is the 2018 Certified Tourism Ambassador™ of the Year for the Greater Columbus Region, which boasts the largest CTA program anywhere. The award represents remarkable excellence in customer service and hospitality and is presented on behalf of the Greater Columbus Regional Program and the Tourism Ambassador Institute®.
"She has a passion that would be difficult to disguise; for tourism and destination marketing, how it benefits the economy, the residents, the visitors and the general well-being of a region," said Marcy Heater, Area Sales Manager of the Grove City and Dublin Drury Inn & Suites. Ms. Heater sits on the Visit Grove City Board of Trustees and nominated Ms. Davis for the prestigious award. "She has taken [the CVB] and, over the last five (5) years, has developed it into something that can be used as a benchmark for other cities. This is more than a job to her; it is her passion. Her efforts in the tourism industry will have long-lasting effects, not just in Grove City, but in the entire Central Ohio region."
Robbie Banks, CTA, Senior Visitor Experience Manager for Experience Columbus presented the award to Ms. Davis on March 15th, 2018, during the Experience Columbus Annual Meeting.
"Amanda's passion for the CTA program shines through in the service and attention she provides visitors," said Robbie Banks, CTA, Experience Columbus Director of Visitor Experience. "She goes above and beyond to ensure the central Ohio story is communicated to visitors in the best possible way. Her leadership and contributions have set the bar high, which has elevated our entire CTA program."
When asked about what the CTA program means to her, Ms. Davis said, "Travel and tourism is big business in Central Ohio supporting 1 in every 12 jobs in Franklin County. The CTA program bolsters the destination by educating frontline employees, politicians, volunteers and other key stakeholders of the value of each encounter with a visitor. The program emphasizes the importance of creating a meaningful connection, which leaves a lasting impression for the destination. As a facilitator, I'm working to get some classes scheduled and if you're one of my Grove City partners, you can take advantage of one of our 20 CTA scholarships available each year. I am honored to get to touch a person's life by helping them discover our destination. It affords the opportunity to connect with visitors again and again in a meaningful way."
###
About Visit Grove City
Visit Grove City, the official destination marketing organization for the City of Grove City, is charged with marketing Grove City as a premier business and leisure destination, thus enriching our community's overall quality of life.  For more information, please visit https://visitgrovecityoh.com.