Grove City Adventures
Whether you prefer the thrill of competition, shopping, history or just relaxing with a glass of wine, fun awaits in this Columbus suburb.
MARCH 2018
BY CAITLIN BEHRENS | PHOTO BY ROBERT WAGNER
If You Love … Nature:
Scioto Grove Metro Park: Nestled along the Scioto River, Scioto Grove Metro Park is an outdoor enthusiast's paradise. The 620-acre natural area features access points for canoeing and kayaking along the river, as well as more than 7 miles of trails for hiking, jogging, biking, inline skating and dog walking. The park also offers scenic overlooks where travelers can take in fantastic views of the river. Other attractions include REI River Trail, a 1.2-mile primitive trail that is great for beginners and offers backpacking campsites on elevated platforms. The park's quarry pond is stocked with bluegill and largemouth bass, and the 3-D archery trail simulates a real-life hunting experience by letting guests walk through a woodland area to search for and shoot at targets. 5172 Jackson Pike, Grove City 43123, 614/949-1078, metroparks.net
You might also like: Gantz Park, a 20-acre garden alongside the historic Gantz farmhouse, is filled with more than 900 flowers and herbs in a trio areas poetically named the Garden of Yesterday, the Garden of Today and the Garden of Tomorrow. The park is also home to a labyrinth modeled after the one in France's Chartres Cathedral. 2255 Home Rd., Grove City 43123, 614/277-3050, grovecityohio.gov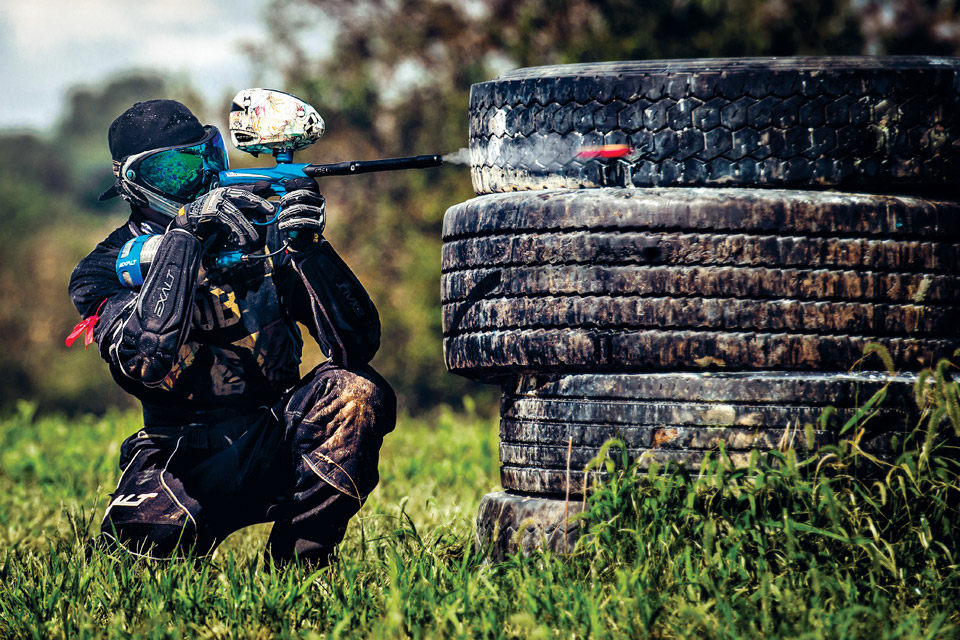 If You Love … Competition:
LVL UP Sports Paintball Park: From first-timers to seasoned pros, adrenaline junkies of all skill levels get their competitive juices flowing at LVL UP Sports Paintball Park, located 5 miles south of Grove City's historic town center. The 36-acre adventure park covers more than 260,000 square feet of natural forest devoted to woodsball play, five themed scenario courses, a shooting range and a pro shop. LVL UP's Valken Village, one of the complex's newest courses,  features the largest playable paintball structure in Ohio — a 2-story, 100-foot-long "castle" filled with hiding spaces. The park's X-Ball Park regularly hosts professional players, sponsored leagues and tournament events, and also serves as the playing field for collegiate teams from Ohio University and The Ohio State University. 5390 Harrisburg Pike, Grove City 43123, 614/313-1382, lvlupsports.com
You might also like: Pair the fast-paced athleticism of soccer with the dexterity of golf and you have the essence of Kickmaster Footgolf, where participants kick a soccer ball toward a cup that's 21 inches in diameter instead of the usual golf hole. Kickmaster Footgolf also has a 13,000-square-foot athletic facility featuring three batting cages and space for football, soccer, baseball and lacrosse games and practice sessions. 1700 Dyer Rd., Grove City 43123, 614/595-8659, kickmasterfootgolf.com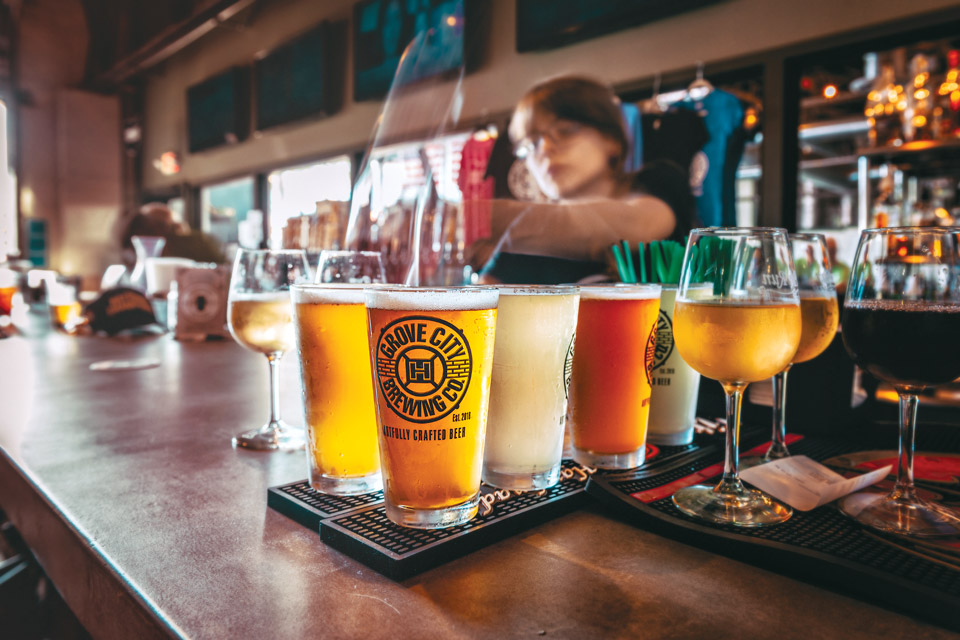 If You Love … Food & Drink:
Plum Run Winery & Grove City Brewing Co.: Plum Run Winery and Grove City Brewing Co. share a rustic space inside a building dating back to the 1920s that was once a Harley Motors Ford dealership. The ambiance is enhanced with touches of the structure's original industrial decor, including cinder block walls and a giant "H" gracing the facade. After making their selections from the 20 brews on tap and 25 house-made wines, guests are invited to take a seat on one of three outdoor patios where local musicians perform throughout the season. (Performances move indoors during inclement weather.) The brewery/winery also offers a gastropub menu, ranging from barbecue nachos and large Bavarian pretzels to sandwiches, salads and flatbreads. 3946 Broadway, Grove City 43123, 614/991-0338, facebook.com/plumrunwinery, facebook.com/grovecitybrewery
You might also like: An outdoor patio filled with flowers and a rooftop terrace make Cimi's Bistro at Pinnacle Golf Club a favorite place to enjoy steaks, sandwiches and wood-fired pizzas. The bistro's location offers picturesque views of the private 18-hole golf course on the property. 1500 Pinnacle Club Dr., Grove City 43123, 614/539-0397, cimisbistro.com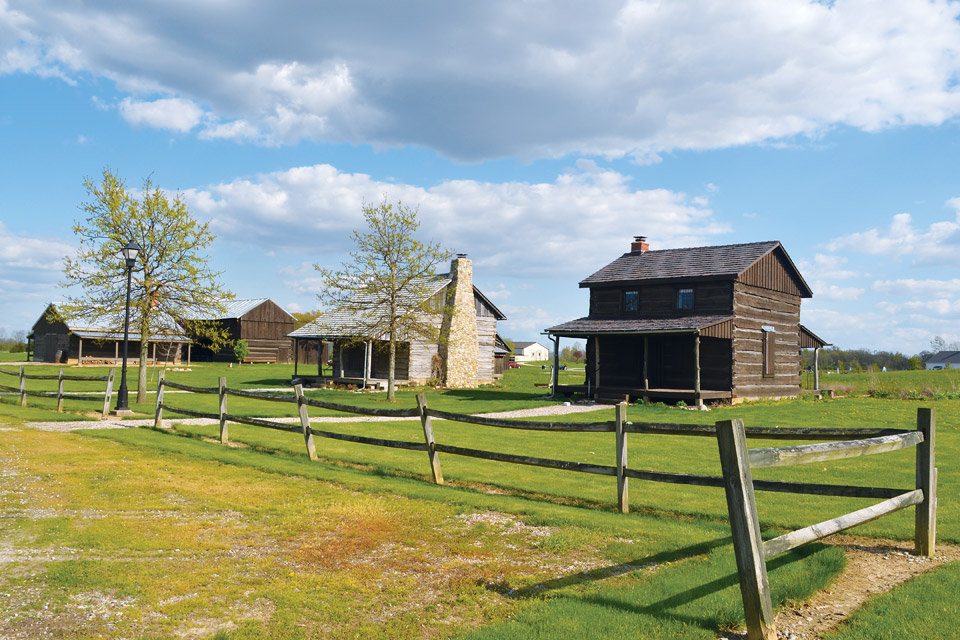 If You Love … History
Century Village: Step into Grove's City's past at Century Village. Modeled after a small 19th-century community, the historic park features 11 sites that include a one-room schoolhouse with authentic desks and chalkboards, a log cabin and a working blacksmith forge that are all native to central and southern Ohio. Volunteers dressed in period-appropriate clothing help set the tone for hourlong tours highlighting artifacts from the mid-1800s. For the newest attraction, the Southwest Franklin County Historical Society recently added the town's 900-square-foot train depot that was located downtown. The station, which was in operation for 60 years, is in the process of being restored. Artifacts featured inside will include a pot-bellied stove as well as a model train display. 4185 Orders Rd., Grove City 43123, 614/277-3061, grovecityohhistory.org
You might also like: The Grant-Sawyer Home, which dates back to the 1840s, was built by miller Hugh Grant Sr. and inhabited by six generations of his family until 2014. The dwelling, which will open as a museum this month, has been restored to look much the way it looked when it was constructed and showcases 60 items from Grant and his descendants. 4126 Haughn Rd., Grove City 43123, 614/277-3061, grovecityohhistory.org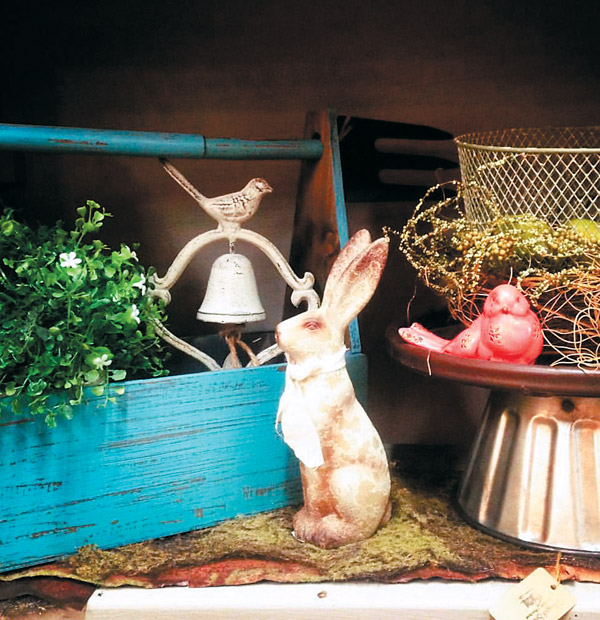 If You Love … Shopping:
Country Hearth Primitives: Those looking for one-of-a-kind items will love wandering through downtown's Country Hearth Primitives. Central Ohio vendors fill the shelves of this 4-story emporium with quality antiques and handcrafted items. The shop also carries an impressive selection of collectibles, including Heisey glass and Hull pottery. Customers love perusing the quirky primitives. Shop owners Dave and Jolene Engelman recently sold a grapple chandelier crafted from farm equipment and adorned with hanging lanterns. 3937 Broadway, Suite B, Grove City 43123, 614/875-5201, Facebook page.
You might also like: Recently expanded to fill its new 1,400-square-foot space with handmade artwork, The Farm Table on 62 is packed with a wide selection of clothing, jewelry and home decor items ranging from pottery to picture frames. Owner Christie Laffin also stocks jams and jellies made by local vendors and furniture she refurbishes. 3952 Broadway, Grove City 43123, 614/668-9974, thefarmtableon62.com 
See the Original Article on Ohio Magazine's Website