Fall Fun in Grove City
Looking for a getaway that's not far from home? A trip to this central Ohio community promises autumn fun and adventures for all tastes.
SEPT./OCT. 2020
BY HOLLY ENGEL | PHOTO BY CHRIS WILLIAMS | @ICONVEYCREATIVITY
Scioto Grove Metro Park
The 620-acre Scioto Grove Metro Park, just a 10-minute drive from Grove City's center, welcomes around 500,000 visitors each year. The park is home to a classic archery range and a 3D range, complete with 12 foam animal targets, one of which resembles a dinosaur.
"As you go on that archery course, you'll hike around a little loop because all the targets aren't in one location," says Peg Hanley, public relations manager for the Columbus and Franklin County Metropolitan Park District, noting that the 3D targets present a challenge to experts and amateurs alike. "When you're getting ready to shoot that first 'deer,' it's quite a ways from where you're standing."
Tim Moloney, executive director of the Columbus and Franklin County Metropolitan Park District, adds that backpackers, bikers and dog walkers are all welcome to explore the park's six main trails, including the 1.8-mile long REI River Trail.
"The trail is great for beginning backpackers," he says. "They don't have to start out on a 20-mile hike, where their boots don't fit and they get lost. We call it our urban backpacking trail."
This trail is also home to a gently swaying — but very safe — suspension bridge that takes hikers across Grant Run, offering a great photo op. 5172 Jackson Pike, Grove City 43123, 614/949-1078, metroparks.net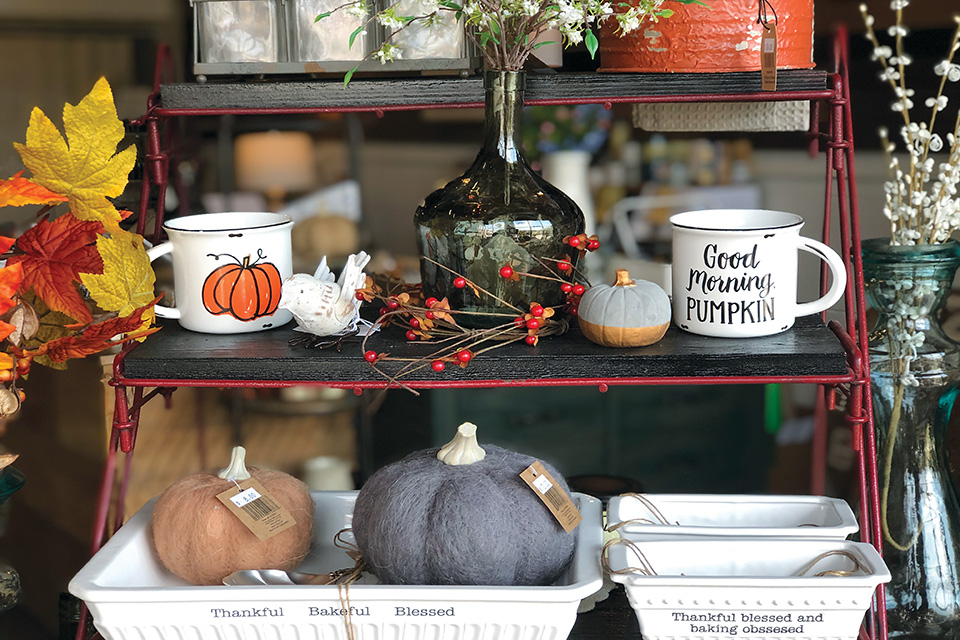 Adventure and nature converge along the Big Darby Creek National Scenic River. Not only is the Darby home to more than 100 species of fish and 38 species of reptiles, including endangered rainbow darters and mudpuppies, but paddlers can explore up to 12 miles of river ecosystem through Trapper John's Canoe Livery.
The livery was originally founded in 1978, and Jason Kaufman has owned it for 16 seasons. Fall is one of his favorite times to go out on the Darby.
"The whole trip is tree-lined, and the leaf change is beautiful," he says. "It's quiet out here because it's not busy like it is in the summertime."
Five self-guided trips of varying lengths are available to paddlers, although novices may want to consider visiting when the water is slower. The livery rents canoes and kayaks only when water conditions allow. Rentals include all equipment, a ride back to the livery and paddling advice. Kaufman says the goal is to provide a way for people to put down their smartphones and spend quality time with one another outside.
"[Paddling] is good for the soul," he says, "especially in these uncertain times. Being on the moving river, in the water flow, helps us release the stress of everyday life." Call ahead to check availability. 7141 London-Groveport Rd., Grove City 43123, 614/877-4321, trapperjohnscanoeing.com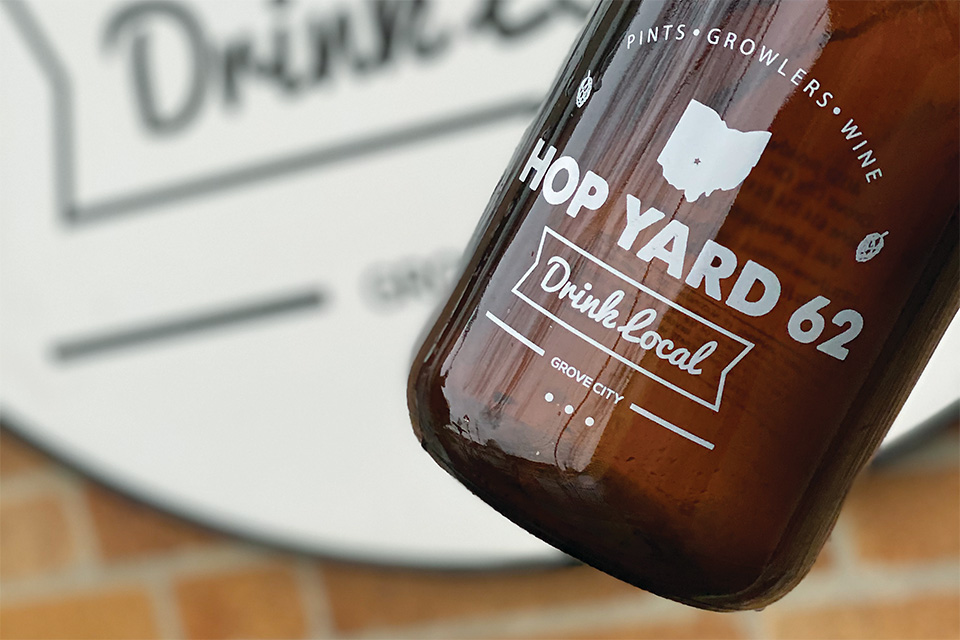 Grove City Town Center is home to over 30 local businesses, making it the perfect place to explore brick-and-mortar shops and sample an array of food and drink. The Town Center is also the site of special events ranging from bourbon tastings to art festivals.
"When we look at different events we could do, we ask how that event can bring awareness to the businesses," says Andy Furr, executive director of Heart of Grove City, the local main street association. The Food Truck Festival and Shop Hop, which takes place twice a month through October, does just that. "Incorporating food trucks encourages our shops to be open later, and it also helps draw people downtown."
Downtown Grove City is easily walkable and features a mix of stores, boutiques and eateries. Visitors can pour their own candles at The Chandler and browse rooms of antiques at Country Hearth Primitives. Blu-Willy's serves up laid-back bar foods like chicken wings and burgers (including a bourbon bacon jam burger), and Hop Yard 62 works closely with other central Ohio breweries to offer 21 craft beers on tap.
We'd love for [visitors] to come take a look at what we have to offer," Furr says. "It will impress people." Broadway and U.S. Route 62, Grove City 43123, 614/539-8762, heartofgrovecity.org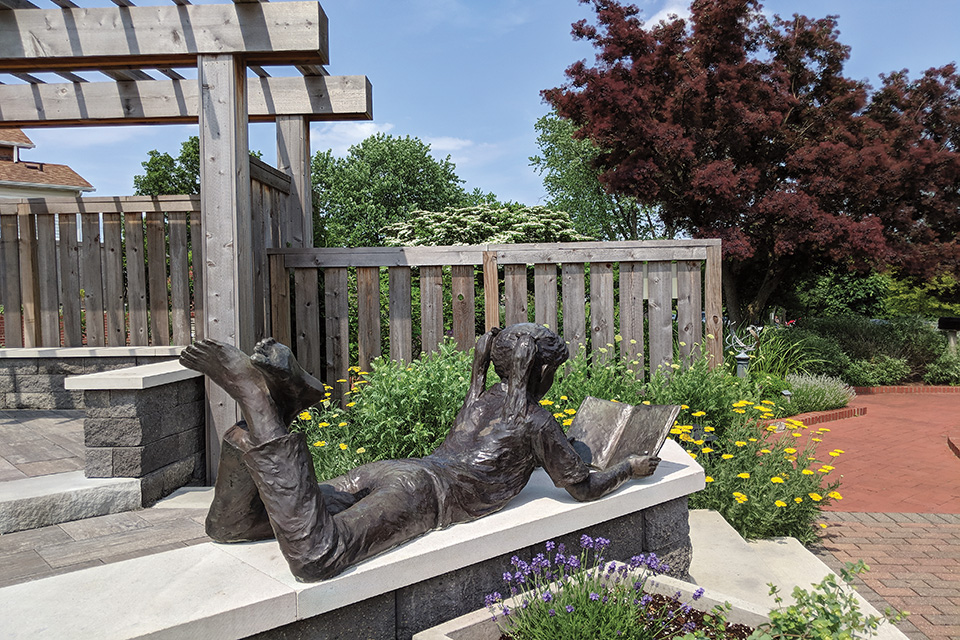 Local farmer and landowner Adam Gantz built his Grove City farmhouse during the mid-1800s. Today, it overlooks an eclectic garden of 500 different herbs from around the world, and the Gardens at Gantz Park has become a destination for both family fun and individual meditation.
"The whole garden was always meant to be an educational resource for the city," says education coordinator Gloria Hartung. "You'd be very surprised at what herbs are used in products like toothpastes and shampoos and how herbs have been used for centuries to treat illness."
Along with a rain garden, fairy garden and cutting garden (to name just a few), the gardens of yesterday, today and tomorrow each add a piece to the history of herb gardening. The Garden of Yesterday's herbs, fruits and vegetables would have been found in a mid-1800s Ohio kitchen garden, while the Garden of Today's collections demonstrate modern uses for ancient herbs. The Garden of Tomorrow, which is attached to the meditation labyrinth in an herbal grove, finds its inspiration in how plants function in landscaping. Hartung suggests self-guided garden tours to anyone looking to explore the hundreds of herbs. You can also call ahead for a guided tour.
"It's important that people come here," she says, "and learn about everything that herbs will do and have done for mankind." 2255 Home Rd., Grove City 43123, 614/871-6323, grovecityohio.gov
See the Original Article on Ohio Magazine's Website