Best Hometowns: Grove City
This growing Columbus suburb embraces places and moments from its past as it invests in the future.
NOVEMBER 2016 ISSUE
BY STEPHANIE GRAUER | PHOTO BY CASEY REARICK
Year Founded: 1852
Location: Franklin County, 10 miles southwest of Columbus
Population: 37,490
Size: 16.4 square miles
Local Flavor: The first thoroughbred racetrack in Ohio opened in Grove City's Beulah Park in 1923.
Summer at Grove City's Windsor Park is all lush green grass and dust-speckled breeze. More than 800 local kids play here each season on one of the park's 11 diamonds and in the shadow of the town's water tower, painted white with red stitching to resemble an enormous baseball.
Other reminders of Grove City's longstanding ties to America's pastime can be found a mile away at the Grove City Welcome Center & Museum, where a rotating exhibit on the history of the game includes a rare mitt from 1890, signed baseballs, bats and even a pair of Babe Ruth's athletic undergarments.
"We had semipro baseball back in the '20s, [and] we were one of the first communities in Ohio to have Little League baseball back in the late '40s," says Mayor Ike Stage. "We really have a great history with baseball."
That love for the game prompted the city to build an all-abilities baseball field at Windsor Park, which opened in May.
"It's a rubberized surface so that wheelchairs, walkers, individuals on crutches, just about any type of mobility can use the field," explains Stage. "It's incredible, and it was all donated by our community."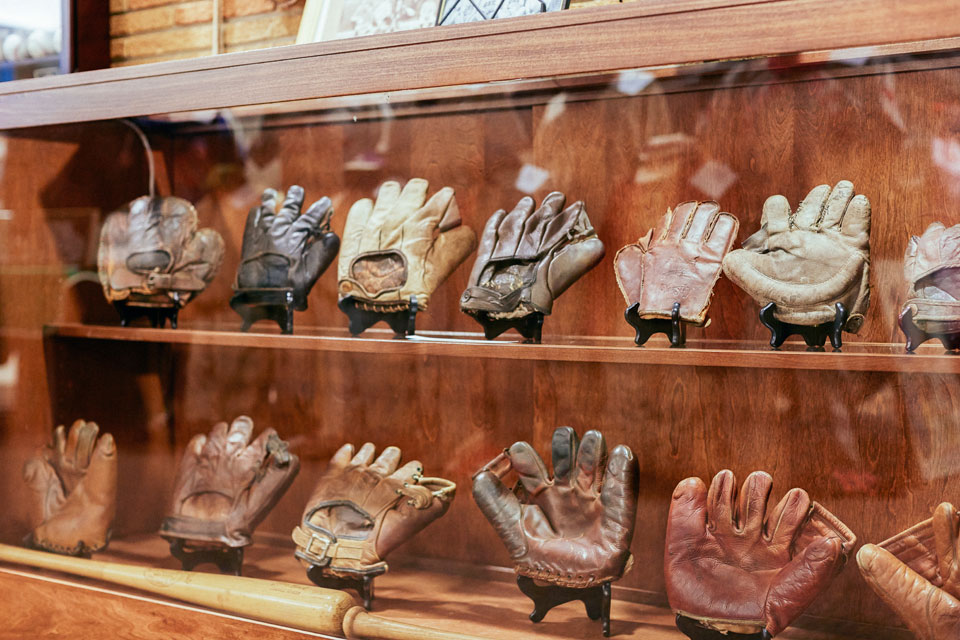 Other recent city projects include the new 48,000-square-foot Grove City Library, which opened in October. It follows previous revitalization efforts that included setting aside affordable downtown spaces for startup businesses and the creation of four outdoor murals that are scattered throughout the city's historic district.
Located across two city blocks, each mural depicts a glimpse into Grove City's past: One presents a 1920s-era look at the intersection of Park Street and Broadway, while another showing a woman and her dog accepting a trophy is a nod to the days when Grove City was home to a greyhound-racing track. Perhaps the most well known is the mural depicting a World War II soldier in uniform standing along Broadway.
"I saw this picture," Stage recalls. "It was just this soldier standing by that sign in black and white, and I said, 'there's something here.' The artist put in what the rest of the town looked like."
These views of the town's history are scattered among chic restaurants and shops, many of which reinvent a part of Grove City's past. A former service station is now home to Zassy's Treasures & Design, a vintage shop filled with country finds. It was inspired by the time owner Cassy Mullins spent on her grandmother's 17-acre Grove City farm as a child.
"I grew up with a grandmother who always repurposed things, not because it was trendy at the time," says Mullins. "She was always taking me to garage sales, driving around to auctions. I had a little knack for making things attractive out of nothing — starting with something very simple and making it fun."
Several other businesses in Grove City's historic district have given new life to some of the town's historic addresses. Plank's on Broadway, an 1850s-era hotel-turned-restaurant, is steeped in local lore, and Mulzer's Garage, which once housed the largest Ford dealership in Franklin County, now serves as space for startup companies and is home to the recently opened Orchardfields & Arbor cafe.
But one of the richest and most luxurious transformations is the Gardens at Gantz, a 150-year-old farmhouse and property repurposed in 1988 to include a public arboretum, labyrinth, community classes on herb gardening and three inspirational gardens: the Garden of Yesterday, the Garden of Today and the Garden of Tomorrow.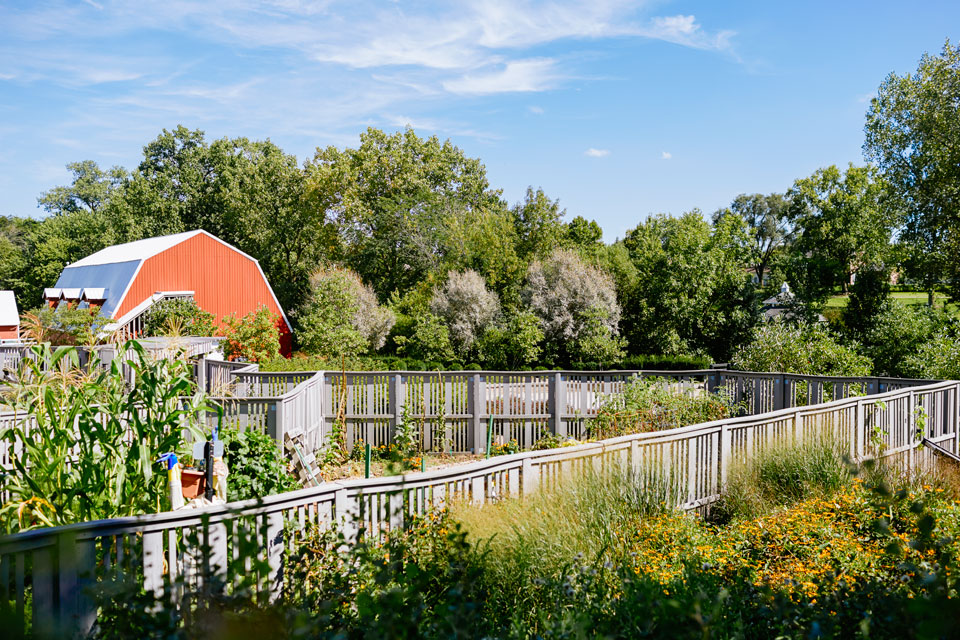 Where the Garden of Today contains trendy plots such as culinary and medicinal gardens, the Garden of Tomorrow features small container gardens in anticipation of the more crowded living options of the future. The Garden of Yesterday, meanwhile, mirrors a traditional 1840s Ohio kitchen garden.
"The Garden of Yesterday will stay the same — the vegetables will change — but [we] always maintain that they are century-appropriate," says Linda Rosine, recreation specialist.
As the plants change from season to season, the garden serves as an enduring tribute to the town's history and those who have called Grove City home over the years.
Stage says it is a priority that the town's story lives on even as leaders work to meet the needs of a modern suburban community.
"We're not going to abandon the past," he says. "The city itself has embraced the past. For our families, we feel an obligation to them to let them know that history still prevails in our town."
See the Original Article on Ohio Magazine's Website