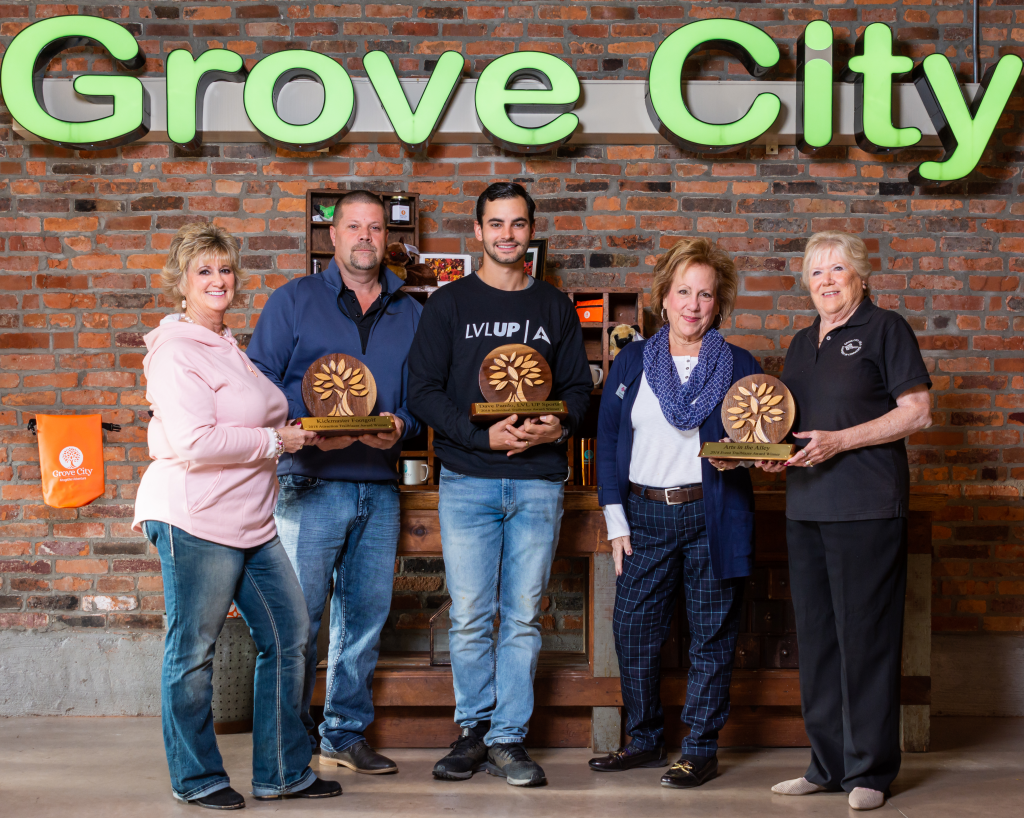 Photo by Jeffrey Tadlock | Pictured from left to right: Debbie Guzzo and Bob Clanin (Kickmaster Footgolf), Dave Pando (LVL UP Sports), Shawn Conrad and Marilyn Reiner (Arts in the Alley)
Attraction/Business – Kickmaster Footgolf
From the experience they provide visitors, to their enhancement of the community's image, they are always seeking to improve the tourism industry in Grove City. Per the nomination form, this business or attraction is said to be… "a gathering place, a place for celebration. A Place to learn new things. A place for fun… A place where adults can play like kids and kids can be kids!" It is said to be so unique that there isn't any place like it in Central Ohio, or possibly any place in the world! The nominator said, "I think [they] should win because it is a unique and unforgettable experience which makes Grove City stand out."
Event – Arts in the Alley
A community event which not only brings together our local community, but also aims to create a memorable visitor experience. Event organizers continually strive to improve the vent and the Grove City tourism industry. Our 2018 event Trailblazer welcomes over 35,000 attendees annually and has been around for almost 40 years. We've probably already given it away, if not, you'll likely figure it out when we tell you that this event creates an opportunity for thousands of artists and musicians to showcase their gifts and talents. The nominator said, "…give specialty shows, Fine Arts, Quilt, Youth Art, Crafts, and Photography have been the launch of the career of many emerging artisans." This even brings tens of thousands of visitors to our quaint Historic Town Center and to our community each year, generating revenue and recognition for Grove City.
Individual – Dave Pando, Owner/Operator at LVL UP Sports
An individual who demonstrates excellence in creating a positive visitor experience and goes beyond in everything they do. See if you can guess… This year's individual award recipient is said to "maintain a reputation that complements the adventurous spirit of Grove City". Their business welcomes visitors from Cleveland, Louisville, Cincinnati, Michigan and more. Promotes company events via social media and email to nearly 10,000 subscribers. Worked hard to secure two major events drawing visitors from far and wide. His nominator said, "When people visit his business, they truly get to experience the fruits of his and his team's labor as a local small business and his whole team is constantly speaking so highly of Grove City because as the leader, he sets and example of a true ambassador for this city.