Your favorite Ohio getaway takes home top honors
What a thrilling week we had watching history in the making for Visit Grove City! First, the annual RUBY Awards were presented at the Ohio Travel Association Conference on Tourism last week in Springfield, Ohio. The Grove City Area Convention and Visitors Bureau was nominated for three awards, including best Website, Blog, and Social Media Campaign.
The RUBY Awards are given to a single recipient, by budget category, and represent the best-in-class for the industry. Our category was under $300,000 budget, with out sights set on the $300,000 -750,000 category in the near future!
And the winners are….
Our team is thrilled to announce that Visit Grove City won two of our three categories, Best Blog for our "What the Grove?!" blog series and Best Social Media Campaign #SeeTheGrove, which consists of Facebook, Twitter, and Pinterest. While we did not win best website (congratulations Oxford CVB), we were one of five nominated. Not bad for a newly rebranded site!
The "What The Grove?!" blog has been a work in progress all year. With special thanks to Tracy Broyles and Sarah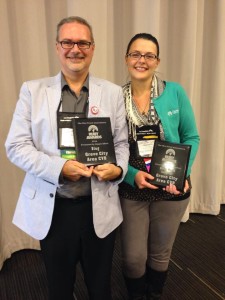 Lilly, who also contributed to the series, the Visit Grove City Team made great strides this year in publishing a top-notch blog that has hopefully both educated and entertained at the same time.
Look for future blog posts on what Pearl the Squirrell does during hibernation season, the top places to experience this winter in the Grove, and what exactly happens when we travel to promote Grove City to tour planners, groups, and leisure travelers alike.
The social media campaign #SeeTheGrove is ever evolving and expanding. As social media becomes a predominate way to advertise, the team at Visit Grove City is constantly looking at new trends, reevaluating our current posts, and determining which messages current travelers want to see and read. Currently Visit Grove City is on Facebook, Twitter, Pinterest, Instagram, You Tube, LinkedIn, and Google+. There is always room for more. So be on the lookout for other platforms in the coming weeks and months.
The newest OTA Board member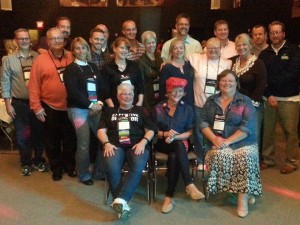 More exciting news occurred as one of the staffers at Visit Grove City was elected to the Ohio Travel Association Board of Directors. Ron Bower, Marketing and Group Sales Manager, is the newest member of the board. He will serve a three-year term, with the possibility of being re-elected for another term in 2017.
Ron is excited and honored to be on the board. Not only will be continue to promote Grove City as a destination, but now he will also help Ohio become the place for travelers to visit, experience, and explore.
Ron joins Visit Grove City Board member, owner of Hocking Hills Canopy Tours, Jodi Burroughs on the board. With those two on the board, we think Ohio Tourism, and Grove City, is going to blossom in the coming years!