Don't let a little precipitation get you down, there are plenty of things to do on a rainy day in Grove City. Here are six activities that will surely brighten your day:
Head to the museum
Peruse artifacts and learn about Grove City's rich history at the Grove City Welcome Center & Museum. The permanent collection includes unique items, including a working Model T and exhibits are constantly rotating. The friendly museum hosts will happily give you a private tour of the museum. You'll definitely leave with a wealth of Grove City knowledge!
P.S. Read this blog post from Keeping Up With Kids about visiting the museum with children.
Paint pottery or canvas
Fuel your creative side by painting your very own canvas or piece of pottery. Adults and kids can paint in a laid-back environment at a Paint Mixer, held at Creative Clinic Center. No experience is necessary as you learn the skills needed to paint while you follow along on your own canvas with a talented painting instructor. Or paint your own piece of pottery at Coffee Break Pottery, where you can choose from a variety of different styles.
Relax at a coffee shop
There's nothing better than a warm drink on a rainy day. Head to Impero Coffee Roasters, where you can cozy up with a cup of tea or coffee and enjoy some peace and quiet. Maybe read a book, newspaper, or have a chat with the friendly and knowledgeable Impero staff.
Shopping
Rainy days are a good day to shop 'til you drop, and Grove City has plenty of shopping from convenient, familiar brands to charming local shops. Head to the historic Grove City Town Center, where you will find unique treasures within a few blocks.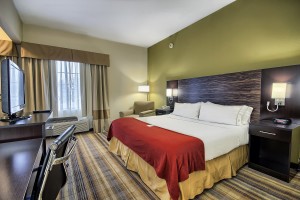 Stay in bed
Pillow-top mattresses, fluffy pillows, and crisp sheets make it so difficult to get up in the morning–so we totally understand if you just stay in bed all day! Find your perfect Grove City hotel to do just that.
What are your favorite things to do on a rainy day in Grove City? Share in the comments below or on social media using #SeetheGrove.