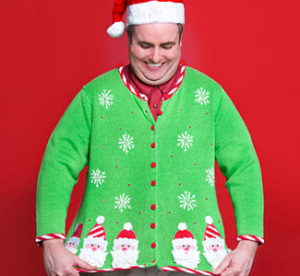 Feeling Humbug? Uninspired by the season? Do you need four cups of spiked eggnog just to break out the wrapping paper? We may have the cure to get your holiday mojo back. Friday, December 12, 2014 is National Ugly Christmas Sweater Day! That's right, NATIONAL UGLY CHRISTMAS SWEATER DAY!!
National Ugly Christmas Sweater Day is about proudly sporting your favorite ugly Christmas sweater for the entire day…regardless of circumstances. Wear it to class. Wear it to your board meeting. Wear it to church. Just Wear It! To help with the your fear of being judged or humiliated or showing off, we have a contest for you. Take a photo, selfie, or polaroid of you wearing your Ugly Christmas Sweater in all it's festive glory. Use the #GCUglySweater and post it to Visit Grove City's Facebook page. The pic with the most "likes" by Monday, December 15, 2014 at Noon wins a $25 American Express Gift Card to help purchase holiday gifts.
So come on, show us your holiday pride by sporting that hideous sweater that your blind Aunt Penelope gave you 10 years ago. It will not only be fun, but it will also get you in the holiday spirit!! Merry Christmas!