In case you haven't heard, there are many exciting developments happening in Grove City. One that we are very excited about here at Visit Grove City is the new Scioto Grove Metro Park. We absolutely love
Battelle Darby Creek Metro Park
, which is the closest metro park to Grove City and we cannot wait to have another place to explore the outdoors! Recently, the Friends of the Metro Parks got a sneak preview of the park, which will open in spring 2016. Nikki Smith, one of the attendees, writes a wonderful blog called
The Mustard Seed Promise
and she graciously shared her blog post with us about the new metro park. Enjoy!
"In central Ohio summer has wound to a close, the autumn leaves have put on their colorful show and most have fallen silently to the forest floor. So I wasn't sure what to expect while visiting the latest acquisition of Columbus and Franklin County Metro Parks – Scioto Grove, in Grove City. This latest 620-acre addition is currently under development, but opened for one afternoon only for an exclusive sneak peak. Members of "Friends of the Metro Parks", a non-profit group serving as an advocate for the parks, filed in for a look at what will be available to all in 2016.
The afternoon began with a welcome cup of hot chocolate, a map of the soon-to-be completed park, and a complimentary tram ride through the site. Gliding over the smooth, new pavement from the tram, it was easy to see how this park will be breathtaking, once completed. Huge farm fields, which once grew corn and soy beans, are now covered with tiny blades of what will soon become tall prairie grass, sweeping across the land. Parking lots were completed, their stalls lined, bright white. Gravel paths were in place leading toward the wooded section of the park. There was so much wide open space to see from the ride, before it returned to the Friends' welcome tent and next to what will soon become the largest playground in all of the 18 Metro Parks.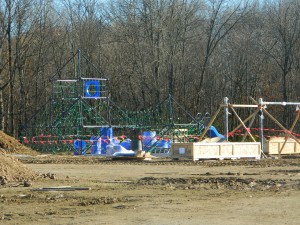 An announcement was made a moment later by a gentleman in sunglasses – a hiking tour, heading further into the park, would be leaving in just a moment. Our tour guide jokingly promised to do his best not to lose us (like his last group) and didn't introduce himself until a Metro Park Friend jabbed for an introduction and to know his affiliation with the Parks. Tim Moloney introduced himself as Executive Director of Columbus and Franklin County Metro Parks and thanked all for making the trip out to see this new park. Mr. Moloney advised he has been onboard with the Parks for 11 months and his enthusiasm for his new role and this new park were obvious.
He began by explaining the three different types of paths we would use on the tour: paved, gravel, and mowed, for sections of the trails that would, for a few weeks out of the year, be submerged under the Scioto River.
Our first stop was a newly-constructed overlook deck, with a view down into the grove of small trees in the flood area. He explained that, at times, you'll see this section of land gone, replaced by the flowing Scioto River. Sharing his excitement over the placement of the two entrances to the park, one at the north end, the other at the south, he explained Scioto Grove will feature a 3.5-mile canoe run for visitors to enjoy, with canoe drop-ins at both sites.
Rather than present this park as an easy feat to pull off before a grand opening right around the corner (next spring), he openly shared instead the challenges his team has faced in transforming Scioto Grove. Pointing out the copious amounts of Japanese Honeysuckle that can be seen virtually everywhere, he assured guests that as little herbicide is used in these parks as possible. He shared his knowledge of the invasive Callery Pear tree, which the parks battle by first cutting down the tree, then treating the stump to minimize chemicals used. Pointing to the newly-planted prairie fields, he shared what a transition it is to take a field of corn or beans and change it into a rolling prairie – it will take a year or two to reach its full growth. The Parks will only need to mow the prairie once per year or perform a controlled burn to maintain it, an inexpensive and low-maintenance option, yet still visually appealing.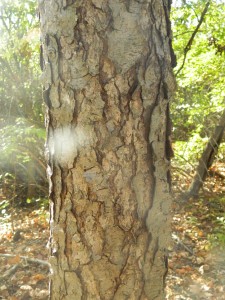 As the group headed into the forest, a challenge was posed and a prize offered to anyone under 16 who could name the tree next to Moloney. My shy daughter Kate needed some encouragement from myself and a few of the other guests on the tour, but reluctantly moved forward and shared that it was a Cherry tree – partially correct – a Black Cherry tree to be exact. For this, she earned a piece of flint, found earlier on the property by a Parks staff member.
Moloney explained that this piece of flint is only one of many that nature and time have hidden on the property. They were used by Native Americans who lived right here in central Ohio, and while he advised he'd not yet found an atlatl tip or arrowhead out in the field, the best time to search is shortly after ploughing time, when the settled earth has been churned up.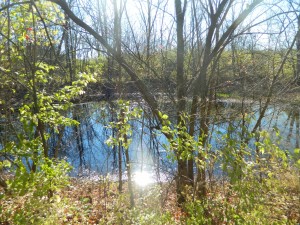 Next, the group was led past a little body of water too small to be a pond, but too large to be labeled a vernal pool. This area was flooded with light and visitors were advised this was a popular watering hole for wildlife and home to a host of frogs.
Nearby was a much larger pond, the surface as smooth as glass. It's here where buses will be seen dropping off and picking up school groups of children, who will be able to view and catch salamanders, see fish, and experience the excitement of standing in the middle of the pond on a large floating dock.
The next stop of the tour led down a steep ridge and into a ravine, where one of the most exciting features of the park will be – an urban backpacking trail, the first of its kind in the United States. Those who are ready to try backpacking, but prefer to begin from the safety of a smaller, close-to-home locale, or with small children, will be able to camp here overnight, once obtaining a permit from Parks staff. The backpacking trail winds through the grove and along the Scioto, with a giant Sycamore tree to highlight the journey. Orange markers will ensure guests have as natural a backpacking experience as possible, while not losing their way, though Moloney proudly boasted the Metro Parks do not have a "keep to the trail" policy and encourage free exploration off the beaten path.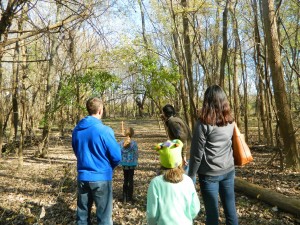 It was around this time a white-tailed deer, startled by our presence, leaped across the path at a distance and disappeared along the winding river. All eyes were drawn now toward the Scioto, a beautiful site, peaceful and smooth. Maloney explained that, due to annual flooding of this area, Metro Parks will need to rely on volunteers to help keep this area clean of trash and other debris that will most likely float its way down the river and lay, deposited in this forest.
That's why becoming a Friend of the Metro Parks is so important. As a member, access is granted to special events like these and volunteers are appreciated for their willingness to lend a hand and play a part in keeping their parks clean and beautiful.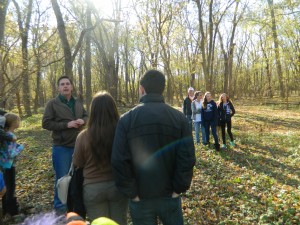 As the tour continued, Mayor Richard (Ike) Stage and his family were seen making their way down the ravine ahead to join up with the tour. Moloney took the opportunity to thank Mayor Stage for his willingness to partner with the Metro Parks – Mayor Stage reciprocated, stating he felt honored to be a part of the project (parts of this park are currently in Jackson Township, while some is within Grove City – eventually the park will be fully annexed into Grove City).
The last surprise on the expedition was a huge sledding hill at the end of the backpacking trail. The hill is eastward-facing, so once it's time for the snow to melt, this hill will be one of the last to surrender to spring. Perched at the top of the incline sits another overlook deck for parents to observe their kids from above.
At the bottom of the hill on this day, staff members set up straw bales around a campfire. All were invited to toast marshmallows and to make s'mores while taking in a stunning view of the river off to the east.
I couldn't have imagined all that touring this park would have in store so late in the season, especially while under development. I assumed it would be difficult to envision the finished park. But what myself and visitors experienced this day was an exciting plan, a beautiful vision for a new place to play coming to life, and one like central Ohio has never seen before.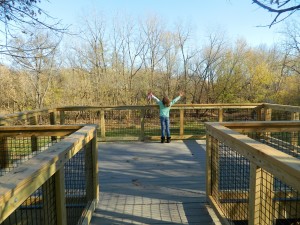 I can't wait to return to Scioto Grove and float down the river, backpack through that beautiful grove of trees with my family and watch my daughter climb to new heights on the massive new playground. I'm grateful for the invitation to witness this park firsthand and for the hospitality of Director Moloney and the Friends of the Metro Parks.
This is one you'll definitely want to visit again and again. Be sure to stay afloat of the latest developments at Scioto Grove through the Columbus and Franklin County Metro Parks' site:
Become a "Friend of the Park" at:
See more photos of the sneak peak! Follow me on Flickr:
https://www.flickr.com/search/people/?username=nmsmith1120"
Thank you again to Nikki from The Mustard Seed Promise for sharing her blog post with us! We cannot wait to experience the beauty of the park!
Guest Blogger: Nikki Smith is a freelance writer from Delaware, Ohio with a passion for discovering and exploring new wild places in and around the central Ohio area. She enjoys sharing her experiences in nature with others and continues to look for new ways to encourage others to get outside and off the beaten paths.