Last week, Ron, Pearl the Squirrel, and I (Sarah) went on an office excursion to tour the Grove and partake in some of the experiences that we market to visitors and groups. Our first stop of the day was Battelle Darby Creek Metro Park, the largest park in the Metro Parks system with more than 7,000 acres to explore. It was drizzling and cloudy when we got to the park, but we were determined to battle the elements in the hopes of seeing the bison, including the bison calf born in May. At the recommendation of the park's website, we parked at the Cedar Ridge Area parking lot and walked about a mile north along the Darby Creek Greenway Trail. The trail was very serene and we saw a lot of beautiful foliage and some critters, like the little snail (pictured below). The trail also ran through a prairie restoration area with lots of beautiful wildflowers and prairie grasses. It's hard to believe this park is in the heart of Central Ohio. After the short, pleasant walk, we reached a mound for viewing the bison. Unfortunately, we did not get to see any that day, but it was still a very enjoyable experience that we highly recommend.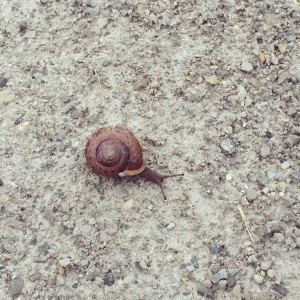 Our second experience was a kayaking trip at Trapper John's Canoe Livery, which you can read all about here. After our trip we had worked up quite an appetite, so we grabbed a bite to eat at Plank's on Broadway. Pearl stayed outdoors and snacked on some acorns while Ron and I ate some delicious hamburgers and french fries.
Our final stop on our tour of the Grove was the beautiful Gantz Park where we walked through the blossoming gardens. They include the Garden of Yesterday, Garden of Today, and Garden of Tomorrow to show how gardening has changed throughout time. We also walked past the intricate 11-circuit labyrinth, which can be used as a tool for reflection, meditation, and relaxation. Walking the labyrinth is thought to be representative of a journey to one's spiritual center and back into the world.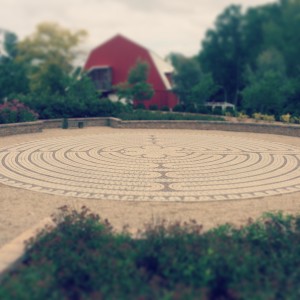 We loved our little tour of the parks in the Grove and hope you will visit some of these unique places, too!
– Sarah