*Disclaimer: All opinions are our own. This is an unpaid review.
Ron and I had the pleasure to try out the Hocking Hills Canopy Tours last week. The zip-lining company is owned by one of our wonderful board members, Jodi Burroughs and her sister, Julieann Burroughs. Hocking Hills Canopy Tours is located about an hour southeast of Grove City, situated in the scenic Hocking Hills region.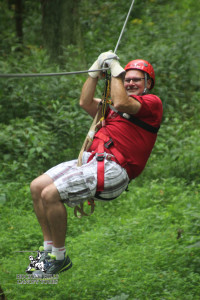 We signed up for the Original Canopy Tour and the SuperZip Tour. After checking in at the 'Clubhouse' and using the restroom (there is no place to use the restroom on the tour), we geared up with the help of our awesome tour guides, Jordan and Davis. We had a quick tutorial on proper zip-lining technique, and then we were off! The two-and-a-half hour tour took us through the treetops through a network of ten zip lines and five skybridges. The scenery was absolutely breathtaking and the guides were very knowledgeable about our surroundings. As someone who is afraid of heights, I will admit I was slightly terrified at first, but I quickly got over my nerves thanks to all the adrenaline pumping through my body. Zip lining high above the ground through a canopy of trees is an indescribable thrill! As exciting as the experience was, I felt completely secure and safe throughout the tour. Next, we embarked for the SuperZip Tour. We geared up again and then climbed to the top of an 85 foot tower. My fear of heights got the best of me for a second and I thought about backing out of the SuperZip, but with some convincing from Ron and the zip line operators, I faced my fear. Ron was brave and went "Superman style," on his stomach with arms out like he was flying. I, on the other hand, went upright down the zip line, which is a quarter mile long and has speeds up to 50 mph! It was absolutely incredible!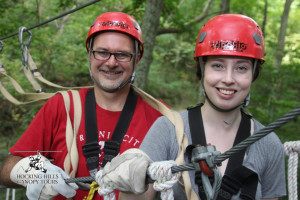 Hocking Hills Canopy Tours also have several other zip line tours, including a Dragonfly Tour for children and a NightFlight Tour, where you can zip line in the darkness of the night. They also offer OFF-ROAD Segway Adventures, which allow you to explore the rugged terrain and beautiful scenery by maneuvering an Off-Road SegwayX2. The tours offered at Hocking Hills Canopy Tours are the perfect option for those looking for adventure, nature, and ecotourism all within an hour of Grove City. The Grove City area also has some wonderful ecotourism options, including Battelle Darby Creek Metro Park and Trapper John's Canoe Livery (which we wrote about here). If you would like more information on ecotourism, please contact our offices at 614.539.8747 or email answers@visitgrovecityoh.com.
– Sarah