There is a rich history, myth and legend surrounding this day.  Here are a few tidbits I've found in our search for the truth behind one of my favorite days!  The History channel is full of fantastic videos made to educate and entertain from a Bet  You Didn't Know  piece that dispels myths about St. Paddy's to a history of Leprechauns (Did you know that they were not originally associated with pots of gold?).
Looking for a bite to eat?  Something  traditional perhaps?  I tend to utilize Allrecipes.com when I'm looking for just the right dish – in this case, corned beef and cabbage.  But while there I also peeked in on some less traditional treats like this one – Guinness and Chocolate Cake.  Still, I have yet to find a better St. Paddy's cupcake than the one I created a few years back.  My dark chocolate stout cupcake called for Pike Place Market's Kilt Lifter and was filled with a Bailey's Caramel Irish Cream filling, topped with a Bailey's Caramel Irish Cream Buttercream frosting and garnished with a green fondant shamrock.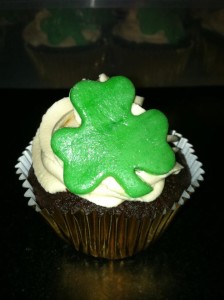 If you are up for some further festivities, head out to one of our local pubs/restaurants and partake of some ales or Irish-inspired adult beverages.  I'm partial to Great Lakes Brewing Company's Conway's Irish Ale because Guinness just isn't right on this side of the pond!  There are so many options available at Garden Cafe on Broadway you are sure to find the right drink for your St. Paddy's celebration!
Happy St. Paddy's from me to you!
Tracy