With the weather warming up, it's time to break out of that treadmill rut. Or maybe you're looking to reinvigorate your New Year's workout resolutions (like me!). Here are few ways to get fit in Grove City:
1. Try a group fitness class
Boredom is the workout killer, so don't get stuck in the same old routine. Try a barre class at Physique Fitness Studio (pictured to the right), a kickboxing class at 9Round Fitness, a hot yoga class at Burn Within Yoga, a pilates class at LA Fitness, a yoga flow at Rise Yoga, or a water aerobics class at the Grove City YMCA. If you're visiting, all of these places offer a guest pass or have a drop-in rate.
2. Switch up your surroundings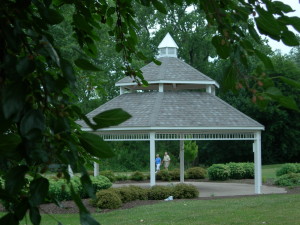 Working out is always more fun when you do it in a relaxing, beautiful environment. Try taking your usual workout outside at one of Grove City's parks. Henceroth Park has outdoor exercise equipment and walking/biking paths. Gantz Park (pictured left) would be the perfect spot for some meditation or yoga. Fryer Park is great for running/jogging around Rotary Lake, Windsor Park has baseball fields, tennis courts, and batting cages. Breck Community Park is a great spot for both you and your pup to stay active. And don't forget about the Community Disc Golf Course and the Grove City Skate Park.
3. Go for a bike ride
Get some miles in on some of Grove City's fantastic bike trails. You can find a map of all the biking/walking trails in Grove City here. Don't forget your helmet!
4. Find a fitness buddy
Have fun while you get fit by doing it alongside others. You'll be more likely to commit if there are other people counting on you to show up. Another option is to attend a fitness-related event. Here are a few events in Grove City where you can get healthy and be social:
5. Try out the QR Fit Trail
Remember the parks I mentioned before? Well, Fryer Park (pictured left) and Gantz Park have a really unique QR Fit Trail where users can access videos on their smartphone that show specific exercises led by a fitness instructor. The exercises coordinate with the surrounding environment of the park. The trail in each park includes a welcome station with a warm-up exercise and five additional workout stations marked by signs along the path. All you need is your smartphone with a QR scanner application, most of which are available for free on different operating systems.  
Share how you like to get fit in Grove City on social media using #SeetheGrove.