Hi everyone! My name is Sarah and I'm a summer intern for the Grove City Visitors & Convention Bureau or GCVCB, for short. A & T have graciously allowed me to write a post for our new blog from an intern's perspective, so here goes!
I've been fortunate that I've been able to travel a lot throughout my life, but through interning at the GCVCB this summer, I've gotten an inside perspective of the tourism industry. So, here are some of my personal favorite things to do when traveling and some helpful tips for you travelers thinking about coming to our area:
1.)  Experience the local transportation.
I know this one seems strange, but just hear me out. If you really want to explore and get to know a city, forget driving; instead, figure out how to get around using local transportation, whether it's a subway, a bike-share program (like the one Columbus just got!), or just simply walking. By doing this, you'll be forced to interact with other people and the exciting environment around you!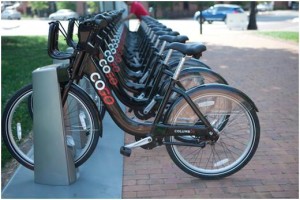 2.)  Get a taste of the local flavor.
To me, this one is a no-brainer. When I'm traveling, I want to experience cuisine that I can't get anywhere else. From Maine lobster to New York hot dogs to Cincinnati chili, every place has something special to offer. The Greater Columbus area is a perfect destination for foodies, like me! We happen to be known especially for our many fantastic ice cream shops! In Grove City, we have Capital City Cakes, serving Ohio-made Velvet ice cream. In other parts of Columbus, you'll find Graeter's Irresistible Ice Cream, Jeni's Splendid Ice Creams, Johnson's Real Ice Cream, and many more!
P.S. Unless you're like me and you eat ice cream for nearly every meal (I work at Graeter's), you can find other Grove City area dining options on our website: www.visitgrovecityoh.com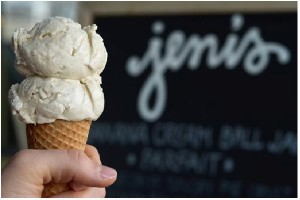 Jeni's Splendid Ice Creams
3.)  Get cultured!
Travel can be educational as well as leisurely; the Greater Columbus area, being a hub of higher education, has plenty to offer in the arts and culture department! If you're looking for art, the Columbus Museum of Art has an impressive collection and amazing exhibits, and the Wexner Center for the Arts has unique performing arts exhibitions and screenings of films. Arts in the Alley in Grove City is a celebration of art that takes place every year on the third weekend in September. It's a very popular event in Grove City, so definitely check it out if you get a chance! There are also plenty of other festivals and events throughout the year, which you can check out on our calendar.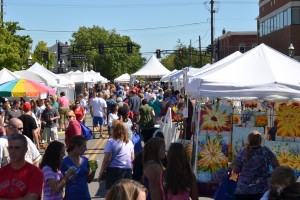 Arts in the Alley
Happy travels!
Sarah