It's cold. 
It's frigid.
It's bitterly, bone-shattering, eye-piercing, breath-stealing, frigging freezing.
That's better.  I've been searching for the proper verbiage to describe the temperature outside right now.  I am not certain I've done it justice but I'm satisfied that my point is sufficiently illustrated.  There are not enough clothes to block the wind and chill from my limbs, not enough SmartWool socks to prevent numbness from seeping into my toes, and how am I supposed to operate my phone or turn my steering wheel with three pair of gloves on??  This weather is unacceptable, or so I thought.  Driven to find the silver lining (even though I think that's frozen right now too) I sought some of the best ways to stave off the effects of the Polar Vortex and this is what I arrived at.
1.  Hot soup and daily coffee specials at Garden Café on Broadway.  Every day Garden Café posts new soups and coffee specials for the day on Facebook (here).  The café is cozy in spite of the chill outside and if the numerous hot drink options can't seem to warm your blood, there is always beer and wine a plenty.  Fight through the vortex and warm yourself up at Garden Café on Broadway.
2.  Flair for the creative?  Try a class or just stop in and paint a piece of your choice at Coffee Break Pottery.  Maybe a new mug for your favorite hot beverage, a decorative bowl for some soup or something completely different that makes you think of warmer weather – whatever you choose to paint you are sure to have a warm, cozy, and fun time at Coffee Break Pottery!
3.  Looking to lose yourself for a few hours?  Grab a cup of coffee from one of our local hotspots (like number one above) and peruse the three levels of Country Hearth Primitives.  Seek out that perfect piece of furniture you've been searching for or find some jewelry for the upcoming holiday of the heart!  One thing is for certain, you can keep the chill at bay for hours when you visit Country Hearth Primitives.
4.  Need something to ease the chill at night?  Little Theatre Off Broadway is currently putting on Alone Together, a production sure to entertain and thaw your funny bone in spite of the temperature outside!  With Friday and Saturday night shows as well as a Sunday matinee, there are plenty of opportunities to catch this outstanding production.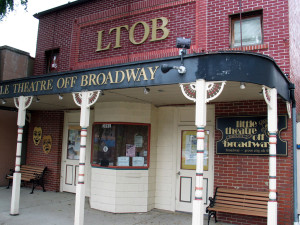 5.  Stop in at Read it Again Books to find the perfect book for snuggling up with a mug of hot cocoa.  With a terrific selection and a heart-warmingly kind staff, Read it Again is a must stop in Grove City when you are seeking out a new read.  You may be lucky enough to happen upon one of our local authors as well!
Whatever you choose to do, make sure you stave off the icy freeze of winter and look toward the warmth of spring and summer when we can explore all there is to do outdoors!