Fall is also the perfect time to visit Circle S Farm for the Fall Fun Days Harvest Festival complete with pumpkin picking. Come to Grove City's Historic Town Center for  Arts in the Alley (featuring our postcard contest) and Boo on Broadway (mmm…candy!).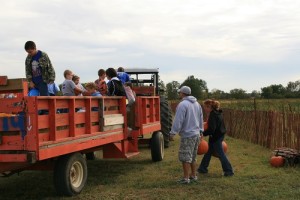 At the Little Theatre Off Broadway, a new season of shows is being presented by the award winning troupe with plays including The Addams Family Musical and Escanaba in Da Moonlight.
If outdoor adventures are more your thing, we are fortunate enough to have several parks for exploring, hiking, or fall foliage viewing while experiencing living history at Century Village. Then see how gardens have evolved at the Gardens at Gantz Park with the Yesterday, Today, and Tomorrow garden. Explore Slate Run and Living Historical Farm to learn all about bats, October Owls, or just play in a pile of leaves.
The Bison Experience is a natural wildlife habitat open year round at Battelle Darby Creek Metropark to learn and observe first hand the wonder of these magnificent creatures. Even Pearl the Squirrel is getting ready for the changing of seasons. She is out collecting acorns for her winter nesting. Ok, actually she has minions doing the work for her, but that's another story.
For more information about events, local attractions, and great food options, or to book an overnight stay, contact Visit Grove City at 800.539.0405, email Answers@VisitGroveCityOH.com or explore VisitGroveCityOH.com. We invite you to explore our area and #SeeTheGrove!