The Fourth of July is right around the corner and Central Ohio is brimming with patriotism (especially this year with all the World Cup excitement)! Celebrate with the largest fireworks display in Ohio–Red, White, and BOOM! It takes place in downtown Columbus on July 3rd from noon-11pm with activities to keep you entertained all day. Don't miss the spectacular fireworks display starting at 10pm! If you're not into crowds, however, or want to do something different, we've got some alternative ideas for you:
Bring the whole family to Blast at Beulah, Grove City's own Fourth of July celebration. There will be live entertainment and children's activities to keep you entertained until the fireworks are launched around 10pm. Pack a picnic or buy food & beverages at the park. At 8pm there will be a ceremony to honor the veterans and active military men and women who have bravely served our nation.
2. Bret Michaels at Scioto Downs | Scioto Downs Racino, 6000 S. High St., Columbus, OH | July 5, 6:30pm
Come see American rock legend and lead-singer of Poison, Bret Michaels, perform at the Scioto Downs Racino. Doors open at 6:30pm and the show starts at 8pm. While you're there, partake in some gaming or grab some delicious food & drinks. For tickets to the event, visit their website.
*Must be 21 years of age or older to attend*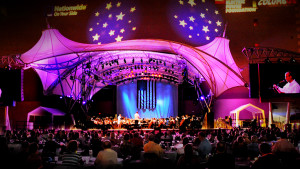 3. Patriotic Pops | Columbus Commons, 160 S. High St., Columbus, OH | July 5, 8pm
Listen to some of your favorite All-American tunes performed by the Columbus Symphony Orchestra at the Columbus Commons. Pack a picnic or treat yourself to some Mikey's Late Night Slice, Jeni's, or Graeter's ice creams. The performance will be topped off with a magnificent fireworks display.
4. Columbus Clippers vs. Toledo | Huntington Park, 330 Huntington Park Ln., Columbus, OH | July 4, 7:15pm & July 5, 7:05pm
Commemorate Independence Day with America's pastime. Watch the Columbus Clippers take on the Toledo Mud Hens at Huntington Park. There will be fireworks following the game.
5. Buckeye Lake BLASST | Buckeye Lake State Park, 2305 Liebs Island Rd. NE, Millersport, OH | July 3, 2pm-10pm
The Buckeye Lake BLASST features a spectacular fireworks display with the beautiful Buckeye Lake as a backdrop. Fireworks begin at dusk and can be viewed from the Buckeye Lake State Park North Shore boat and picnic area and Fairfield Beach picnic area. If you have a boat, set out for the middle of the lake for the best views while you drift on the water. During the day, there will be family-fun activities, entertainment, and food.
– Sarah