The leaves are changing. The air is crisp. The sun is shining. It's time to get outdoors before winter's wrath comes blowing in. If you're looking for things to do near Columbus, Grove City has many beautiful trails to bike, jog or leisurely stroll and explore nature's scenic wonders. Check out our list of five trails to satisfy your outdoor adventures this fall.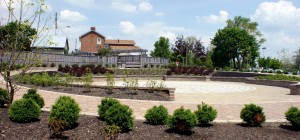 1. Gantz Park
Gantz Park has beautiful, rolling terrain and a two-story barn perfect for picnics and other gatherings.
The Gardens at Gantz Farm is a public herb garden with an estimated 10,000 visitors per year. Both the gardens and the farmhouse are also used for programming. The entire eastern side of the park has been designated as the Gantz Park Arboretum. Visitors can visit the arboretum to learn about different tree species. Gantz Park also features a network of trails over rolling terrain and through wooded areas. Take a break and explore the herb garden, arboretum and picturesque gazebo.
Gantz Park is located at 2255 Home Road, Grove City, Ohio 43123
2. Fryer Park
Fryer Park is a 110-acre park featuring Century Village—a turn-of-the-century historic area complete with a renovated one-room school house, a log cabin, a barn and other 1900s-style items.
The recreation trail circles Rotary Lake, Discovery Drive and the Grove City YMCA. Enjoy the scenic views of the park while riding, walking or running along the pathway. The park also features a space-themed play area for kids, softball diamonds, and wooded nature trails.
Fryer Park is located at 3899 Orders Rd, Grove City, OH 43123
3. Henceroth Park
Henceroth Park is a 22-acre eco-friendly park. With a wooded nature trail, solar lighting and playground equipment made entirely from recycled materials, Henceroth is committed to going green. A walk, run and bike path with exercise equipment, a butterfly garden and bluebird boxes are also noteworthy features.
This trail circles Grove City's "green" park that features beautiful butterfly and herb gardens, as well as fitness stations for those seeking additional fitness opportunities.
Henceroth Park is located at 2075 Mallow Lane Grove City, Ohio 43123.
4. Buckeye Parkway Bicycle Trail
The Buckeye Parkway Trail is a paved bicycle trail that runs from Stringtown Road to London-Groveport Road, giving cyclists access to the shopping and dining opportunities at Parkway Centre, as well as scenic views of The Pinnacle community and golf course. The trail will take you to Indian Hills Park, a hidden gem in Grove City worth checking out.
5. Battelle Darby Creek Metropark                                                                                                                                                                                                                                    Battelle Darby Creek is the largest park in the Columbus Metro Park system. The Big Darby and Little Darby Creeks, both designated State and National Scenic Rivers, run through its center.
The Ancient Trail travels along the Big Darby where American Indians once maintained a village. The Terrace Trail explores a forest standing 100 feet above the fertile creek bottom. The blend of prairies, woodlands, and waterways creates an oasis for wildlife—and wildlife observers.
The 7,060-acre park offers lots to see and do, and a hike is a great way to get started. A couple trails of interest include Wagtail Trail which features a 1.6-mile loop trail that offers the chance to see wildlife and is suitable for all skill levels. The trail is primarily used for birding, hiking and nature trips and is accessible year round. The Greenway Trail extends north from the Oak Grove picnic area to West Broad Street (U.S. 40). It runs through what used to be part of the Galbreath Darby Dan horse farm. This includes a 1 1/8-mile track with which you can add extra miles to your walk, run or ride.
Battelle Darby Metropark is located at 1775 Darby Creek Dr, Galloway, OH 43119