It's that time of year again…holiday shopping time. While many people participate in Black Friday for their holiday shopping, Small Business Saturday encourages people to support small, local businesses. By patronizing small businesses (every day of the year, not just Small Business Saturday), we can help support local economies and keep our communities unique. We love our small businesses in Grove City, so here are a few ways to shop local in the Grove:
1. Stroll through the historic Grove City Town Center
Many of Grove City's small businesses are located in the historic town center. This quaint part of town is filled with local shops and restaurants. I've written about the town center shops many times (including here, here, and here). This year, the Grove City Town Center Inc. and the Grove City Food Pantry have teamed up to put on the event Donate, Save, and Support Local. This event will run from November 7 through December 31. Shoppers can bring canned food items to participating local businesses to receive a special offer or discount. Go here for a list of all the participating businesses.
2. Attend local events
Many local festivals and events encourage attendees to shop local. At many events you will find local vendors selling everything from baked goods to natural beauty products and more! Below are a couple upcoming Grove City events where you can shop local:
3. Check out Grove City Etsy shops
Etsy is a great place to shop local for handmade & artisan products. Although these shops are not brick and mortar, they are still run by locals and help support our economy. Check out our Pinterest board for some of the Grove City products you can find on Etsy.
4. Stop in the Visitors Center to pick up some local souvenirs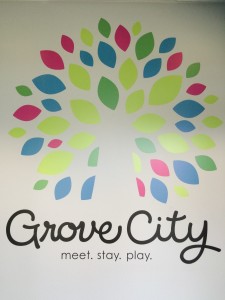 We will be opening a retail shop at the Grove City Visitors Center where we will sell signature items from local businesses. Stay tuned!
Share your favorite ways to shop local in Grove City in the comments below or on social media using #ShopLocalintheGrove!